Band: Vidunder
Titel: Oracles And Prophets
Label: Crusher Records
VÖ: 20.05.15 (Skandinavien)/22.05.2015 (weltweit)
Genre: Rock
Bewertung: 4/5
Written by: Peter
Vidunder sind ein junges Rockkollektiv aus Växjö, Schweden, das erst seit 2010 miteinander Musik macht. Wie viele andere Bands der jüngeren Gitarrenmusik (ich denke an die grauenhafte Vielzahl der Truppen, die mit einem "The" beginnen) reiten sie auf der Retrowelle daher, die uns vor allem die Musik der 1960er- und 1970er-Jahre wieder ins Wohnzimmer spülte. Mit Oracles And Prophets legen die schwedischen Nordmänner nun ihr bereits zweites Album vor, das auf dem selbstbenannten Debüt aus 2013 in allerlei Hinsicht aufbaut. Geboten wird schnörkelloser, oft grandios melodischer Retro-Rock, der vor allem den Geist der späten Sixties und Seventies in sich trägt. Wenn ich beim Zuhören die Augen schließe, sehe ich bekiffte Hippies, die den Jim Morrison machen. Überhaupt, gerade das Orgelspiel, das in diesem Sound nicht fehlen darf und ihn förmlich prägen muss, lässt immer wieder die Doors auf meiner inneren Showbühne konzertieren. Und das Ganze so kommt so gut daher, dass eigentlich alles stimmt, was sich selbst in der Detailliebe niederschlägt, wie sich die Burschen anziehen, wenn sie auf Hippie-Brautschau gehen: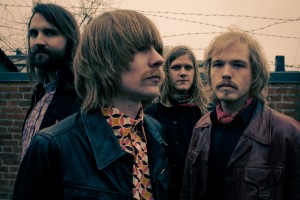 Kurz, die junge Band hat ziemlich viel richtig gemacht. Wer gut gemachten, fast authentisch anmuntenden Retro-Rock mit seinen illegalen Rauchhobbies verbinden will, soll also zuschlagen. Als Anspieltipp empfehle ich vor allem die Single Gone With Dawn, die mir nicht mehr aus dem Ohr geht. Ganz schriller Ohrwurmalarm! Dass ich nicht zur vollen Punktzahl greife, liegt daran, dass das Songmaterial zwar durchwegs den Daumen nach oben stehen lässt, aber die Überhits noch fehlen. Kann ja aber noch kommen!
Tracklist:
01. Gone With Dawn
02. Son Of Every Lie
03. Phoenix Cluster
04. Kalhygge
05. The Owl
06. In And Out Of Mind
07. Twisted Faces
08. Soon Gone
09. Oracles And Prophets
Besetzung:
Martin Prim – Vocals & Guitar
Linus Larsson – Bass
Jens Rasmussen – Drums
Johannes Cronquist – Organ
Vidunder im Internet:
Offizielle Homepage