Band: Wind Rose
Titel: Wardens Of The West Wind
Label: Bakerteam Records
VÖ: 03. Februar 2015
Genre: Symphonic Metal
Bewertung: 4/5
Written by: Lazer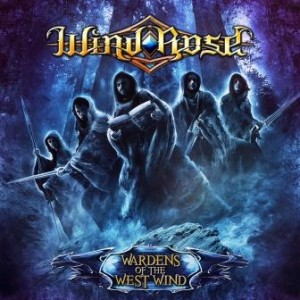 Mit "Wardens Of The West Wind" warten uns Wind Rose Anfang Februar 2015 mit ihrem zweiten Album auf.
Gleich zu Beginn fällt natürlich die qualitative Steigerung der gesamten Band auf. Die Powermetal-Drums ergänzen sich wirklich toll mit den eingehenden Melodien und den epischen orchestralen Chören. Abgerundet wird das ganze durch die feinen Arrangements wie zum Beispiel den Keybords oder dem Horn.
Sehr gut gelungen sind die Melodien, die ein wenig voller aber irgendwie auch filigraner geworden sind. Bei den Vocals wird eine große Vielfalt geboten. Die Tracks werden mal clear gesungen, mal wird geshoutet und dann gibt es epische Chöre. Also Alles was das Metal-Herz begehrt.
Mein Fazit: Obwohl Symphonic Metal jetzt nicht zu meinen Favourites zählt, kann ich sagen, dass Wind Rose ihr Werk "Wardens Of The West Wind" sehr ordentlich produziert hat. Es gibt sehr vieles zu entdecken in den Arrangements und den Songstrukturen. Episch und mystisch und dennoch kraftvoll und energisch mit feinen Melodien.
Tracklist:
01. Where Dawn And Shadows Begin
02. Age Of Conquest
03. Heavenly Minds
04. The Breed Of Durin
05. Ode To The West Wind
06. Skull And Crossbones
07. The Slave And The Empire
08. Spartacus
09. Born In The Cradle Of Storms
10. Rebel And Free
Besetzung:
Francesco Cavalieri – Vocals
Daniele Visconti – Drums
Cristiano Bertocchi – Bass
Claudio Fralconcini – Guitars
Federico Meranda – Keybords
Internet:
Wind Rose Website
Wind Rose @ Youtube