FALLING IN REVERSE, Dead Girls Academy, The Word Alive 30.01.18 Technikum, München
Bands: FALLING IN REVERSE, Dead Girls Academy, The Word Alive Date: 30.01.18 Venue: Technikum, München
Auf ihrer "Coming Home" Tour durch Europa legte "Falling in Reverse" noch einen Stopp in München ein. Im Technikum, dass eine Kapazität von ca. 750 Besuchern hat, gaben die Amerikaner ihre beliebtesten Songs zum Besten. Unterstützt wurden sie von "Dead Girls Academy" sowie "The Word Alive".
Der Andrang vor der Halle war um einiges geringer als ich es erwartet hätte, immerhin ist die Gruppe mittlerweile keine Unbekannte mehr. Der Einlass begann etwas früher als angekündigt und die erste Vorband "Dead Girls Academy" begann auch relativ früh. Genauso ging es weiter, pünktlich startete die zweite Vorband. Beide Gruppen kannte ich vorher nicht, jedoch haben Sie einen sehr guten Eindruck hinterlassen und haben auf jeden Fall ihren Job gemacht. Sie heizten beim Publikum ein und motivierten
Sie zum Mitmachen. Natürlich fiel es trotzdem auf, dass die Menge ungeduldig auf den Headliner wartete.
Die lösten dann auch großes Gejubel aus als sie die Bühne endlich betraten und ohne ein Wort zügig mit der ersten Nummer "Champion" aus ihrem zweiten Album "Fashionably Late" loslegten. Als zweiten Track des Abends lieferten sie "Sink or Swim" aus ihrem Debutalbum "The Drug In Me Is You". Der Titeltrack "Coming Home" aus dem aktuellen Album ("Coming Home") schaffte es leider nicht auf die Bühne. Doch die ausgewählten Songs kamen gut beim Publikum an und es wurde jedes Wort lautstark mitgesungen.
Der Frontman Ronnie Radke zeigte sich ebenfalls sehr engagiert und ließ seine Fans nicht mehr aus dem Gekreische kommen – fast ein bisschen zu viel Gekreische für meinen Geschmack. Auch, dass er der Publikumsmagnet schlechthin ist, fiel sofort auf, denn um die Band für ein Encore zurück on stage zu holen, schrie das Publikum nicht etwa die abgekürzte Version des Bandnamens, nein man hörte nur mehr: "Ronnie, Ronnie, Ronnie…!" Ob es wohl wirklich gereicht hätte wenn nur er ganz allein wieder zurück gekommen wäre? Textsicher und adrenalingepumpt wie immer tanzte und rannte er über die Bühne. Auch ein paar Mikroständer ließ er umfallen um bei dem (offensichtlich sehr beliebten) Song "Just Like You" zu zeigen, dass er wirklich ein "Asshole" sein kann. Immerhin mussten Zeilen wie,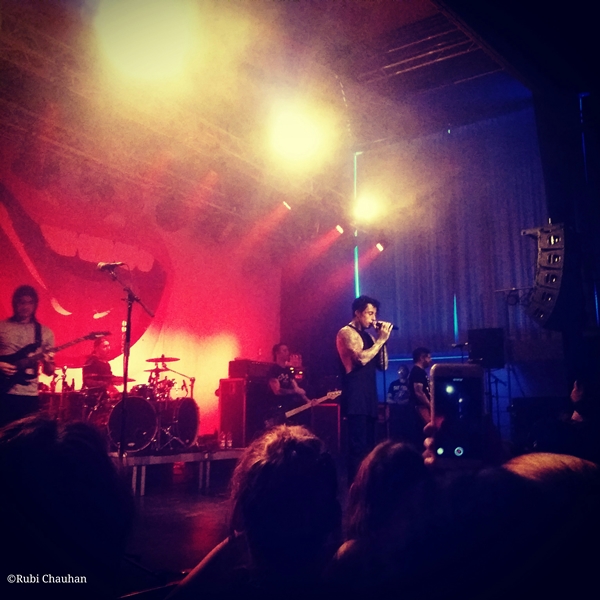 I'm aware that I am an asshole
I really don't care about all of that though
I'm living my life
The way that I want to
And you can't deny
That honestly I'm just like you
demonstriert und unterstrichen werden.
Eines haben sie bewiesen – nicht ohne Grund haben die Jungs letztes Jahr bei den APMAs den Preis für "Best Live Band" gewonnen.
Besonders gut gefielen mir natürlich meine Favorites wie "I'm Not A Vampire", "Just Like You", sowie ihr aktueller Hit "Fuck You And All Your Friends" mit dem sie die Nacht ausklingen ließen. Es war ein sehr unterhaltsamer Abend und ich bin froh die verrückte Truppe rundum Ronnie endlich live gesehen zu haben und werde beim nächsten Mal bestimmt wieder anwesend sein!
Setlist:
01. Champion
02. Sink or Swim
03. God, If You Are Above…
04. Rolling Stone
05. Superhero
06. Good Girls Bad Guys
07. Loser
08. Game Over
09. I'm Bad At Life
10. Fashionably Late
11. Raised By Wolves
12. Bad Girls Club
Zugabe:
13. I'm Not A Vampire
14. Not Good Enough for Truth In Cliché (Escape the Fate cover)
15. The Departure
16. The Drug In Me Is You
17. Situations (Escape the Fate cover)
18. Fuck You and All Your Friends
19. Alone
20. Just Like You