REVOCATION kündigen Album und Tour an
REVOCATION kündigen "Netherheaven European Tour 2023" an! – Neues Album "Netherheaven" erscheint im September'!
Am 9. September werden die Progressive Death Metaller REVOCATION ihr achtes Album Netherheaven via Metal Blade Records veröffentlichen. Einen ersten Eindruck vom Album könnt ihr durch das neue Video zur ersten Single "Diabolical Majesty" (Regie: David Brodsky // mgenyc.com) gewinnen:
REVOCATION haben jetzt auch eine europäische Headlinertour für Anfang 2023 angekündigt! Mit dabei sind ihre Labelmates von Goatwhore sowie Alluvial und Creeping Death!
Sänger/Gitarrist David Davidson:
"Es ist schon viel zu lange her, dass wir in Europa gespielt haben und wir können es kaum erwarten, mit diesem wirklich epischen Line-up zurückzukehren! Wir werden einen Haufen neues Material von 'Netherheaven' spielen, zusammen mit einigen Knallern aus unserem Backkatalog, und wir freuen uns darauf, euch diesen Winter einzuheizen!"
Vier Jahre lang hat das Billboard-Chart-Trio REVOCATION – Dave Davidson (Gesang/Gitarren), Ash Pearson (Schlagzeug) und Brett Bamberger (Bass) – die allegorischen und buchstäblichen Aspekte der Hölle akribisch erforscht, während sie tiefer in die dunklere, diabolische Seite des Death Metal eindringen. Kurz gesagt, wo das vorherige Album, The Outer Ones (2018), REVOCATION in den schrecklichen Schlund des Kosmos warf, bohrt sich Netherheaven geschickt durch die neun Ringe der Hölle, um Luzifer und seine zahlreichen Gesichter direkt zu konfrontieren.
"Wir sind definitiv mehr in einer Death-Metal-Mentalität als auf früheren Alben unseres Katalogs"
, versichert Davidson.
"Wir konzentrieren uns darauf, wie wir das beste Death-Metal-zentrierte Album schreiben können, das uns möglich ist, während wir immer noch unsere Grenzen ausreizen. Die neuen Songs auf Netherheaven sind böse und düster, haben aber auch ein progressives Element, um die Dinge interessant zu halten. Es trägt unseren Stempel, keine Frage."
Netherheaven wurde während einer Auszeit geschrieben, nachdem der Albumzyklus für The Outer Ones abgeschlossen war. Die neun Tracks des Albums wurden ausschließlich von Davidson geschrieben, der seine Zeit damit verbrachte, vor den Altären von Luc Lemay (Gorguts), Chuck Schuldiner (Death), Marty Friedman (Megadeth) und den gefeierten Jazz-Gitarristen Wes Montgomery und Kurt Rosenwinkel niederzuknien.
Neben dem Schreiben von Killer-Riffs und absolut wilder Soli, übte der Siebensaiter auch (Technik), studierte (Theorie) und unterrichtete Gitarre. REVOCATION schalteten einen Gang zurück, als Davidson Tontechnik (mit Apples Logic Pro) lernte, um die Pandemic-Ära-Sperren effektiv zu nutzen. Es war nur logisch, dass er für Netherheaven den Ingenieur- und Produzentensessel in seinen neu errichteten HeatWave Studios übernahm. REVOCATION beauftragte dann das schwedische Studio-Ass Jens Bogren (Opeth, Kreator) mit dem Mix und Mastering in den Fascination Street Studios.
Tracklist
01. Diabolical Majesty
02. Lessons in Occult Theft
03. Nihilistic Violence
04. Strange and Eternal
05. Galleries of Morbid Artistry
06. The 9th Chasm
07. Godforsaken
08. The Intervening Abyss of Untold Aeons
09. Re-Crucified [feat. Trevor Strnad (The Black Dahlia Murder) and George 'Corpsegrinder' Fisher (Cannibal Corpse)]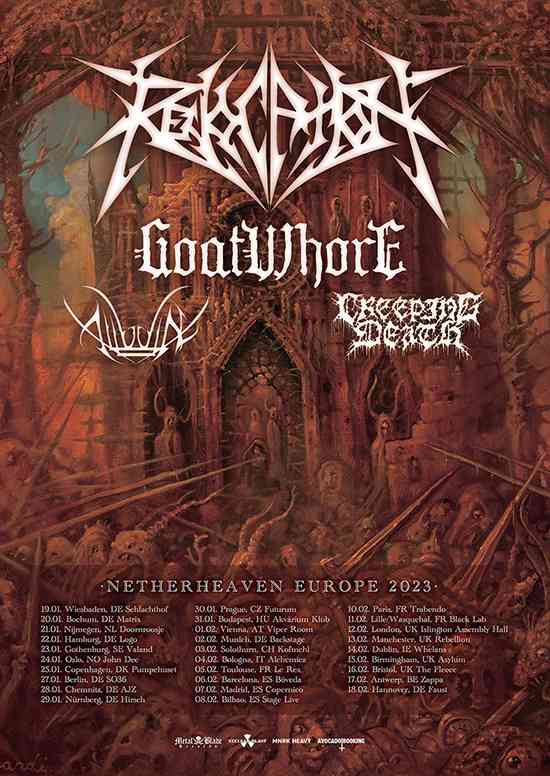 REVOCATION
"NETHERHEAVEN EUROPE 2023"
+ Special Guests:
GOATWHORE
ALLUVIAL
CREEPING DEATH
19.01.23 Germany Wiesbaden @ Schlachthof
20.01.23 Germany Bochum @ Matrix
21.01.23 Netherlands Nijmegen @ Doornroosje
22.01.23 Germany Hamburg @ Logo
23.01.23 Sweden Gothenburg @ Valand
24.01.23 Norway Oslo @ John Dee
25.01.23 Denmark Copenhagen @ Pumpehuset
27.01.23 Germany Berlin @ SO36
28.01.23 Germany Chemnitz @ AJZ
29.01.23 Germany Nürnberg @ Hirsch
30.01.23 Czech Rep Prague @ Futurum
31.01.23 Hungary Budapest @ Akvárium Klub
01.02.23 Austria Vienna @ Viper Room
02.02.23 Germany Munich @ Backstage
03.02.23 Switzerland Solothurn @ Kofmehl
04.02.23 Italy Bologna @ Alchemica Music Club
05.02.23 France Toulouse @ Le Rex
06.02.23 Spain Barcelona @ Bóveda
07.02.23 Spain Madrid @ Copernico
08.02.23 Spain Bilbao @ Stage Live
10.02.23 France Paris @ Trabendo
11.02.23 France Lille / Wasquehal @ The Black Lab
12.02.23 UK London @ Islington Assembly Hall
13.02.23 UK Manchester @ Rebellion
14.02.23 Ireland Dublin @ Whelans
15.02.23 UK Birmingham @ Mama Roux
16.02.23 UK Bristol @ The Fleece
17.02.23 Belgium Antwerp @ Zappa
18.02.23 Germany Hannover @ Faust
Quellenangabe: Metal Blade Records
Photo Credit: Alex Morgan