Band: GRAVEYARD
Titel: BACK TO THE MAUSOLEUM
Label: War Anthem Records
VÖ: 27/04/2018
Genre: Death Metal
Bewertung: 3/5
Written by: Dr. Maze Pain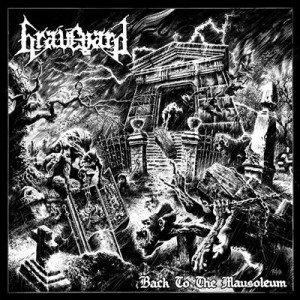 Graveyard stammen aus Barcelona, Spanien und feiern heuer mit der EP "Back to the Mausoleum" ihr 10-jähriges Bestehen. Im Laufe dieser 10 Jahre hat die Band viele, wirklich viele Veröffentlichungen auf den Markt gebracht und so ihren Bekanntheitsgrad im Death Metal vergrößern und auch auf festigen können. Fleissig sind die Jungs auf alle Fälle. Die Idee hinter "Back to the Mausoleum gefällt mir auch sehr gut. Deren erstes Demo aus dem Jahr 2007 bzw. die nachfolgende EP aus dem Jahre 2008 hießen nämlich "Into the Mausoleum" und die Jungs kehrten für die Aufnahmen in jene Garage (selbst wird es als Drecksloch bezeichnet) zurück, in denen auch das erste Demo "Into The Mausoleum" entstanden ist.
Eine EP der gute Laune wo man den Spaßfaktor tatsächlich nicht aberkennen kann, denn mittlerweile sind Graveyard auf einem professionelleren Level unterwegs, haben sicher viel dazugelernt und arbeiten eben auch mit professionellen Partnern an deren Seite.
Back to the Mausoleum klingt genau, wie es klingen soll: Nach Proberaumaufnahme, die im Nachhinein noch ein wenig mit Overdubs versorgt, ohne viel Aufwand möge man meinen, auf den Markt geworfen wurde. Back to the Roots! Und vor allem Geschmackssache, denn wer eine gute Produktion will, ist hier einfach fehl am Platz. Wer allerdings den Spirit der guten alten Zeit (Old School – aber sowas von!), den die Band eben wollte, haben will, der sollte sich dieses Teil zulegen – Scheppern inklusive. Nur eines sei an die Band gerichtet: Wirklich nur eines: Cleane Vocals bei so einer EP? Natürlich Geschmackssache und ich spiele bei euch ja nicht mit, aber wenn ich das täte, dann hätte ich dafür gesorgt, dass kein einziger cleaner Gesang auf dem Album landet. Ende. Aus! Rock on!
Tracklist:
01. Scorched Earth
02. And The Shadow Came
03. Craving Cries I Breath
04. In Contemplation
05. An Epiphany of Retribution
Besetzung:
Javi – Guitars
Gusi – Drums
Julkarn – Bass & Vocals
Mark – Guitars
Fiar – Live vocals
Internet: