KHAZAD-DUM – GARMADH
Band: KHAZAD-DUM
Titel: GARMADH
Label: Wrath of the Tyrant Records
VÖ: 01.09.2017
Genre: Black-/Thrash Metal
Bewertung: 3,5/5
Written by: Maze P.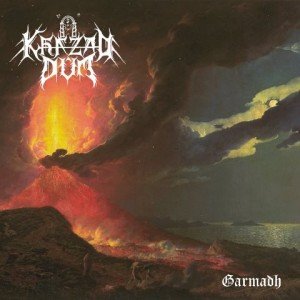 Information ist in den meisten Fällen alles. Da es sich in der mitgelieferterten Info aber eher um den Stil der Band dreht, musste ich mir den Rest selbst erarbeiten, was ich euch gleich mal weitergeben werde, ohne dass ihr, geliebte Leser, dies erneut tun müsst. Also, Khazad-Dum stammen aus Brasilien und spielen Blackened Trash Metal mit starken Anleihen an frühe Summoning, allerdings mehr gitarren-lastig. Abigor sehe ich auch noch irgendwo hervorkriechen, allerdings haben soeben genannte Bands weitaus mehr Qualität, alleine schon in der Produktion abgeliefert, aber ich würde die Band trotzdem in diese Richtung geben. Nun, mit "Garmadh" liegt mir deren erstes Full-Lenght Album vor, welches nun Anfang September 2017 den Weg in meine Gehörgänge gefunden hat.
Wie unschwer zu erkennen, bewegen sich die Brasilianer auf der dunklen Seite von Mittelerde und zelebrieren dies auch in ihrer Musik. Zur Erklärung: "Garmadh" gibt es auch als EP mit 2 Songs weniger. Jedoch nicht in Form einer physischen CD. Nun aber zur Musik:
Wie eingangs erwähnt geht die Mucke richtung früher Summoning mit harten, treblelastigen Gitarren und ordentlichem Gekeife (man lasse sich nicht von dem anfänglichen dunklen und miesen Gesang täuschen). Black Metal der frühen 1990er Jahre gepaart mit dunklem Thrash ist hier angesagt. Knallt ordentlich in die Gehörgänge und macht auch wirklich Spass.
Wer also auf den nostalgischen Klang des Blackened Thrash Metal der 1990er Jahre steht und die schlechte (damals gute) Produktion liebt (gehört dazu bitte!), der soll ruhig mehr als ein Ohr riskieren. Südamerikareise inklusive. Aber wirklich nicht mit der EP verwechseln. Denn 2 Songs mehr sind hier schon das sauer verdiente Geld wert. Limitiert auf 500 Stück! Daumen hoch! Rock on
Tracklist:
01. Intro
02. Rise of the Immortals
03. Draut Gaddur
04. Isildur´s Bane
05. The Bane of Wisdom
06. Proud and Feeble Men
07. Dark Skies of Black Times
08. Rage in the Night
Besetzung:
Noatún – guitar and vocals
Gothmog – Bass
Enrico Baggio – drums
Internet: