Band: Twilight Force
Titel: Tales Of Ancient Prophecies
Label: Black Lodge Records
VÖ: 2014
Genre: Epic Symphonic Power Metal
Bewertung: 5/5
Written by: Lex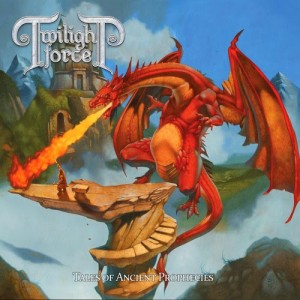 Ein blonder Krieger mit Breitschwert, ein Elf und drei Kapuzenmagier machen sich im Jahr 2014 auf, die goldenen Tage des Epic Symphonic Power Metal heraufzubeschwören. Was für ein Bühnen-Outfit!
Drachen, Elfen, Schwerter, Orks, Unterhosenkrieger – oh ja, all das muss jetzt wieder zurück. Und zwar mit vollem Griff in den dichtesten Kitsch. Der rote Drachen auf dem Cover lässt die Frühere-90er-Rhapsody-Zielgruppe das Steelhorse satteln, um diese erste Disc of Power and Magic der sensationell kostümierten Bards of The Eternal Hymns of Steel zu erstehen. Lead Gitarre und Keyboards liefern sich Frickelduelle, und die umfangreiche Stimme von Sänger Christian Hedgren erklimmt mitunter spitzeste, Glas zum Bersten bringende Höhen. Das Tempo ist fast durchgehend hoch, der Mitgröhlfaktor ebenfalls. Und jede, wirklich (fast) jede eventuelle Soundlücke wird mit Melodien und Bombast gnadenlos zugekleistert.
Wie immer bei dieser Art von Band gibt es zwischen Begeisterung und Verachtung kaum Platz zwischen den Stühlen. Ich für meinen Teil hatte bei diesem Album einen Heidenspaß. "The Power Of The Ancient Force", empfehle ich aufgrund des starken Refrains – und des dazu jedermann via YouTube zugänglichen offiziellen Lyric-Videos – als Anspieltipp. Entweder zieht es einem dabei die Mundwinkel hoch, oder es rollt einem die Zehennägel nach oben. Neu ist das selbstverständlich alles nicht, aber schon LANGE nicht mehr in solch einer Qualität dagewesen. Schon gar nicht von Rhapsody (Of Fire). Geile Songs machen Nachholbedarf in puncto eigene Identität eben locker wett.
Ich verzieh mich nun in meinen Auenland-Bunker, gebe den sieben Songs (plus 4 Midtros) der "Adventure Metaller" 5 volle Punkte und harre der Hassattacken, die mir dafür aus Mordor drohen.
Tracklist:
01. Enchanted Dragon Of Wisdom
02. The Power Of The Ancient Force
03. Twilight Horizon
04. The Summoning
05. Whispering Winds
06. Fall Of The Eternal Winter
07. Forest Of Destiny
08. In The Mighty Hall Of The Fire King
09. Made Of Steel
10. Sword Of Magic Steel
11. Gates Of Glory
Besetzung:
Christian Hedgren (Vocals)
Felipe (Lead, Solo and Acoustic Guitars)
Lute Daniele (Keyboards, Piano, Cembalo, Violin)
Roberto (Drums)
Borne (Bass)
Internet: