Bands: Fleshgod Apocalypse, Carach Angren, Nightland Date: 07.01.17 Venue: Backstage, München
Neues Jahr, neue Tour! Das Jahr hat gerade erst angefangen und die Italiener von Fleshgod Apokalypse gönnen sich keine Pause. Am 7. Jänner startete nämlich die "King" Europa Tour im Backstage München. Mit auf Reisen, die Niederländischen Horror-Metaler Carach Angren und Nightland, ebenfalls aus Italien.
Die Halle des Backstages füllte sich unüblicher Weise
erst ca. 10 min vor Beginn und war dann bei NIGHTLAND, dem Opener des Abends, schön kuschelig voll. Der Symphonic Metal des Quartetts kam sichtlich sehr gut beim Publikum an. Ein seltenes Phänomen, dass die Menge schon bei dem Opener so motiviert "mitgrölt" und "headbangt". Die Hoffnung ist noch nicht verloren. Schön zu sehen, dass auch Nachwuchsbands gut angenommen werden. Den Meisten war Nightland noch nicht bekannt und trotzdem ließ sich die Menge
auf die Italiener ein und wurde nicht enttäuscht.
Der zweite Act des Abends waren keine Unbekannten mehr. CARACH ANGREN haben sich in den letzten Jahren einen schon recht großen Bekanntheitsgrad erarbeitet. Auch in München waren einige Fans mit Carach Angren Shirts anwesend und auch bei denjenigen, welche mit der Musik der drei Niederländer noch nicht vertraut waren, hinterließen sie einen bleibenden Eindruck. Mit Corpsepaint, Sensenmikrofonständer und einer Bühnenperformance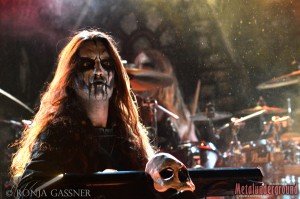 die beeindruckt, begeisterte die Band das Publikum so sehr, dass sogar eine "Wall of Death" entstand. Carach Angren spielen nicht nur Musik, sie erzählen Geschichten (ein Interview mit Clemens "Ardek" Wijers vor der Show könnt ihr hier ansehen) und dank einem Gitarristen, der Live als Gastmusiker aushilft, hat "Seregor", der Fronter, die Bewegunsfreiheit, die er benötigt um die vertonten Gruselgeschichten stimmig und schauspielerisch am Besten darzubieten.
Setlist CARACH ANGREN:
01. Once Upon A Time (Intro)
02. There's No Place Like Home
03. Lingering In An Imprint Haunting
04. Sir John
05. When Crows Tick On Windows
06. Departure Towards A Nautical Curse
07. Spectral Infantry Battalions
08. Bitte Tötet Mich
09. Killed And Served By The Devil
10. The Carriage Wheel Murder
11. Bloodstains On The Captain's Log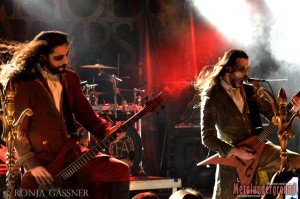 Nach diesem Auftritt, war die Menge richtig aufgeheizt und somit bereit für den Hauptact FLESHGOD APOKALYPSE. Man könnte sie als symphonischen Death Metal mit klassischen Elementen bezeichnen, aber das wäre zu vereinfacht dargestellt, denn es steckt viel mehr hinter dem Konzept der Italiener. Bei Fleshgod Apokalypse spielt neben der Musik auch das Bühnenbild eine sehr große Rolle. Die Klassik, unter anderem dargeboten von einem Pianisten und einer
Opernsängerin, spiegelte sich auch auf der Bühne, ihren Mikrofonständern und den Outfits wieder. Alles schön stimmig, im Barockstil gehalten. Auch Fleshgod Apokalypse ließen es sich nicht nehmen eine "Wall of Death" (wäre somit schon die zweite an diesem Abend) zu veranlassen. Zum Ende hin wurden auch die geforderten Zugaben gespielt und die Band verabschiedete sich sehr herzlich vom Publikum.
Zusammenfassend war es einfach ein unglaublich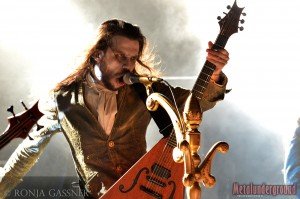 schöner und unterhaltsamer Abend mit drei sehr wirkungsvollen Bands. Die Fans waren alle sichtlich zufrieden und dieser Konzertabend wird sicher lange im Gedächtnis bleiben.
Setlist FLESHGOD APOKALYPSE:
01. Marche Royale (Intro)
02. In Aeternum
03. Healing Through War
05. Pathfinder
06. Cold As Perfection
07. The Violation
08. Prologue
09. Epilogue
10. Gravity
11. The Fool
12. The Egoism
13. Syphilis
—
14. In Honour Of Reason
15. Minotaur (The Wrath Of Poseidon)
16. The Forsakin