Band: Ambush
Titel: Desecrator
Label: High Roller Records
VÖ: 2015
Genre: Heavy Metal
Bewertung: 5/5
Written by: Lex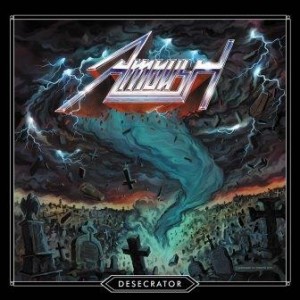 Irgendwann saßen ein paar Typen besoffen zusammen, hörten ihre neuen Metalalben durch und stellten fest, dass eigentlich so ziemlich das ganze neue Zeug kaputtproduzierter, pseudomodernisierter Müll ist. Sie beschlossen, es besser zu machen – nämlich wie all die anständigen Metalbands aus den glorreichen Achtzigern und frühen Neunzigern.
Bald darauf kam 2014 das fantastische Debut "Firestorm" via High Roller Records raus und bekam von mir ohne große Umwege und völlig zurecht sofort 5 Punkte. Ich tat sogar etwas, was ich bei von mir rezensierten Alben selten tue: Ich kaufte es auch noch, nur um diese Typen zu unterstützen. Denn einfach nur analog und retro klingen, das können viele, aber aus dem Nichts heraus ein Meisteralbum voll straighter, eingängiger Killernummern ohne Abnutzungseffekt zu schmieden… Für mich waren Ambush das "Next Big Thing".
Jetzt, wo Ambush mit "Desecrator" einen würdigen Nachfolger geschaffen haben, kann ich nur sagen: Sie sind es gottverdammt noch mal immer noch! Wieder zelebrieren die Schweden alles, was früher den Heavy Metal groß gemacht hat. Da ist jeder Song straight und auf den Punkt, getragen von effektiven Riffs und elegant eingestreuten Schnörkeln, gekrönt von einem perfekten Mitgröhlrefrain. Das ist Easy Listening, das sich nicht abnützt – das schaffen wahrlich nur die wenigsten. Wenn man dann noch mit Oscar Jacobsson einen mehr als fähigen Sänger hat, dem auch die hohen Töne gelingen und der dem Metal seinen eigenen Stempel aufdrückt, weil er einfach Metal in der Stimme hat… Dann kann ich es nur wiederholen: Der Metal lebt wieder, und er macht wieder Spaß. Und er bringt wieder Übernummern hervor, beispielsweise "Master of The Sea", Possessed By Evil", "Chain Reaction" und "South Street Brotherhood".
Früher kaufte man bewährte Klassiker wie "Screaming for Vengeance", um dieses gewisse Feeling genießen zu können. Neuere Alben kaufte man fast ausschließlich aus einer Art Pflichthaltung heraus(Stichwort Musikalische Artenerhaltung). Dank Bands wie Ambush ist das endlich anders. Ich kann nur sagen kauft dieses Album. Macht diese Band so groß wie sie es verdient. Das sind wahre Metal Kings.
Tracklist:
01 Possessed By Evil
02 Night Of The Defilers
03 Desecrator
04 The Chain Reaction
05 South Street Brotherhood
06 Rose Of The Dawn
07 Master Of The Sea
08 Faster
09 The Seventh Seal
Besetzung:
Oskar Jacobsson (Vocals)
Olov Engkvist (Guitars)
Adam Hagelin (Guitars)
Ludwig Sjöholm (Bass)
Linus Fritzson (Drums)
Internet: