Band: Anomalie
Titel: Visions
Label: Art Of Propagand/Edel
VÖ: 17.03.2017
Genre: Post Metal/Black Metal/Progressive Metal/Extreme Metal
Bewertung: 3,5/5
Written by: Peter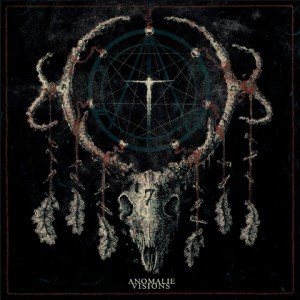 Das Cover des Drittwerks Visions des österreichischen Post Black Metal Projekts Anonalie um Bandkopf Christian "Marrok" Brauch gibt sich düsterer und schwarzmetallischer als es die Mucke selbst dann ist. Sich bewegend irgendwo, meistens recht souverän, zwischen vor allem melodischem Black und Post Metal, aber auch etwas Progressive und Extreme Musik, will das Album eine Erzählung von sieben "individuellen Visionen" schildern. Es handelt sich also um ein Konzeptalbum zum Thema von Visionen; das Ganze kommt recht mystisch, naturverbunden, teils sogar vielleicht gewollt esoterisch daher. Das Album ist etwas zur leise und drucklos produziert, auch schienen mir die Gitarren zu sehr im Hintergrund angesiedelt. Geworden ist es somit ein durchaus hörenswertes und ambitioniertes Post-Album, das vor allem von erhebenden, teils auch melancholischen Melodien und der aus dem Gesamten entstehenden Atmosphäre lebt. Leider ist weder das Songmaterial noch die Umsetzung so packend geworden wie etwa bei Harakiri for the Sky, bei denen Bandkopf Marrok live mithilft.
Tracklist:
01. Vision I: Towards the Sun
02. Vision II: The Wanderer
03. Vision III: A Monument
04. Vision IV: Illumination
05. Vision V: Starless Nights
06. Vision VI: White Forest
07. Vision VII: One with the Soil
Besetzung:
Christian "Marrok" Brauch – vocals, guitars, synths
Thomas Dornig – bass
Lukas Schlintl – drums
Peter Schiendorfer – percussions
Anomalie im Internet:
Anomalie @ Bandcamp