Bestialord – Law Of The Burning
Band: Bestialord
Titel: Law Of The Burning
Label: Symbol of Domination/Cimmerian Shade Records
VÖ: 01.01.2018
Genre: Occult Horror Doom Metal
Bewertung: 4.5/5
Written by: Lex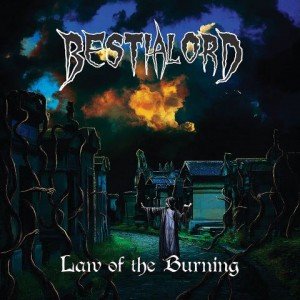 Das Debut des amerikanischen Dreiergespanns Bestialord sollte man sich definitiv zu Gemüte führen, denn "Law Of The Burning" ist ein überaus gelungenes Stück Extremmetal im Stil der alten Schule. Alte Platten von Death, oder auch Vergleiche wie "alte Kreator im Midtempo, aber mit Doom und etwas Groove versehen" kommen mir vorübergehend in den Sinn.
Ohne Geschwindigkeitsrekorde, Frickel – oder Tiefgrunzwettbewerbe, auch ohne Keyboards oder besondere Image-Gimmicks kommen Bestialord aus. Stattdessen zocken sie im durchgehend fast schon gemütlichen Tempo ihre furztrockenen, aber an Hooks reichen und effektiven Old School Riffs – und erreichen damit doch mehr Atmosphäre, Horror und Härte als der Großteil der Todes-und Schwarzwurzelbands.
Von "The Doom That Came" bis zu "What Is The End" ist die Scheibe eigentlich durchgehend herrlich fies, modrig und Evil. Aber "Vermin", "Law Of The Burning" und "Loathed Be Thy Name" möchte ich besonders dringend empfehlen.
Tracklist:
01. The Doom That Came
02. Vermin
03. All Fall Down
04. Law of the Burning
05. Marduk Kurios
06. I Am Pain
07. Loathed Be Thy Name
08. Above the Vaulted Sky
09. What Is the End
Besetzung:
Rob Harris (Bass)
Mark Anderson (Vocals & Guitar)
Chris Johnson (Drums)
Internet: