Band: Boguslaw Bacerak's Crylord
Titel: Gates Of Valhalla
Label: Power Prog Records
VÖ: Juni 2014
Genre: Power Metal
Bewertung: 5/5
Written by: Lazer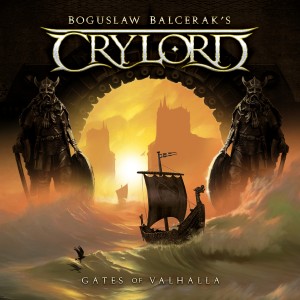 Boguslaw Bacerak's Crylord ist ein Projekt des polnischen Gitarrengotts Boguslaw Bacerak und besteht nun schon seit dem Jahre 2009. Das Zweite Album der polnischen Power Metal/Prog Metal Band nennt sich Gates of Valhalla und kommt im Juni 2014 an die Öffentlichkeit.
Gleich vom Ersten Augenblick an, legen die Jungs so richtig los. Sehr druckvoll und voller Energie präsentiert sich das gesamte Album.
Der Titelsong Gates Of Valhalla bringts total. Dieser Song geht ab wie Sau. Überhaupt die ganze Platte ist voller Spannung und verspricht ein Highlight nach dem Anderen. Die Gitarrensolis brauche ich hier ja eigentlich garnicht erwähnen, mache ich aber trotzdem. Boguslaw Bacerak ist einfach ein wahrer Meister der Stromgitarre. Die Drums von Kanclerz sind so marschierend, dass es eine Freude ist, sich das anzuhören. Der Bass ist sehr druckvoll, die Keybords wunderbar – und die diversen Gastsänger (Rick Altzi, Ricky Wychowaniec, Marc Boals, Göran Edman und Carsten Schulz) runden das Ganze wirklich einwandfrei ab.
Die Songs sind sehr eigenständig und fügen sich doch zu einem homogenen Gesamten zusammen. Mit wahnsinnig viel Melodie, Feingefühl und doch auch Kraft und Härte zeigen die Jungs aus Polen was sie drauf haben. Bestimmt von teilweisen Einflüssen aus den späten 1980ern, klassischen Elementen, Power Metal-Riffs und -Drums, verfolgen die Mannen ihre durchaus sehr tolle eigene Linie.
Boguslaw Bacerak's Crylord legen mit Gates Of Valhalla in punkto Power Metal ein wirklich sehr geiles Album auf den Tisch. Unglaublich druckvoll, extrem melodisch und klassisch angehaucht überzeugt mich dieses Album restlos. Fans von gepflegter selbstgemachter Musik sollten unbedingt ein Exemplar dieser Platte besitzen.
Tracklist:
01. Passage To The Other Side
02. Gates Of Valhalla
03. We Came To Rock
04. Mirrored Eyes
05. Judgment Day
06. Lost Again
07. Deadnight Serenade
08. House Of Pain
09. Pompeii
10. War Memorial
Besetzung:
Boguslaw Balcerak – Guitar
Kamil Wyzinski – Bass
Marcin Kwasny – Drums
Fererico Cordera – Keyboards
Carsten Schulz – Vocals (Track 1, 7 & 10)
Rick Altzi – Vocals (Track 2 & 5)
Mark Boals – Vocals (Track 3 & 9)
Ricky Wychowaniec – Vocals (Track 4 & 8)
Göran Edman – Vocals (Track 6)
Internet:
Boguslaw Bacerak's Crylord @ MySpace
Boguslaw Bacerak's Crylord @ Facebook
Boguslaw Bacerak's Cyrlord @ Youtube