Band: Carach Angren
Titel: Dance and Laugh Amongst the Rotten
Label: Season of Mist
VÖ: 2017
Genre: Symphonic Black Metal
Bewertung: 5/5
Written by: Ronja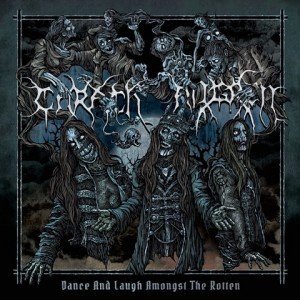 "Ouija, are you there? Ouija, are you there? Is there a presence among us?" Nach der Märchenerzählung bei "This is no Fairytale" führen uns Carach Angren mit "Dance and laugh amongst the Rotten" in eine Welt der Geister und Untoten.
Wenn es eine Band versteht seine Fans für eine dreiviertel Stunde in eine andere Welt zu entführen, dann sind es die Niederländer der Horror Black Metal Band Carach Angren. Obwohl, Black Metal wäre hier schon fast eine Beleidigung… Sie kommen zwar aus dem Genre und ihre Musik beinhaltet sehr viele Elemente des "dunklen Metals", doch es steckt so vieles mehr dahinter. Der Haupteil ihrer Songs besteht aus klassischen Orchestern und wunderbar düsteren und doch melodiösen Klavierklängen. Vermischt mit Schlagzeug, Gitarre und der unverwechselbaren, erzählerischen Stimme von Seregor, entsteht ein Sound, bei dem selbst Tim Burton auf Knien betteln würde, um diesen für einen seiner Filme zu bekommen. 😉
Auf den erzählerischen Inhalt an sich will ich gar nicht eingehen, es soll hier ja nicht gespoilert werden. 😉 Denn bei Carach Angren ist die Geschichte mindestens genau so wichtig, wie die Musik selbst. Sie verstehen es einfach mit ihren Konzeptalben, ihre Fans in andere Szenarien zu versetzen. Für ca. 45 Minuten kann man sich von der Außenwelt auskoppeln und sich nur auf die Story, die erzählt wird konzentrieren.
Fazit: Carach Angren waren und sind immer noch wahre Meister in ihrem Fach und mit "Dance and Laugh Amongst the Rotten" haben sie das auch wieder einmal bewiesen. Nicht nur auf der CD sondern auch live sind sie seeeehr Empfehlenswert. Devinitv für jeden etwas der auf hochwertigen extreme Metal steht!!!
Tracklist:
01. Opening
02. Charlie
03. Blood Queen
04. Charles Francis Coghlan
05. Song for the Dead
06. In de naam van de duivel
07. Pitch Black Box
08. The Possession Process
09. Three Times Thunder Strikes
10. Charles Francis Coghlan (Bonus Track, Orchestral Version)
Besetzung:
Dennis "Seregor" Droomers (voc, guit)
Clemens "Ardek" Wijers (keys, piano, orchestration, backing voc)
Ivo "Namtar" Wijers (drums, percussion)
Nikos Mavridis (violin) (tracks 3, 4, 9)
Patrick Damiani (guit, bass)
Internet:
Carach Angren Website