Band: Coathanger Abortion
Titel: Observations Of Humaity
Label: Comatose Music
VÖ: 23. Juni 2015
Genre: Deathgrind
Bewertung: 5/5
Written by: Lazer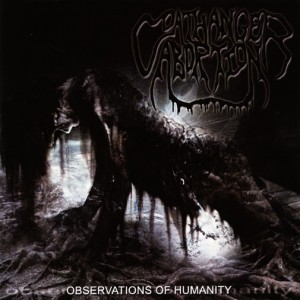 Neues Material von Coathanger Abortion aus Tennessee wird diesen Monat angespült. Die Deathgrinder aus Amerika haben ganze vier Jahre nach ihrem Debütalbum der Welt wieder etwas mitzuteilen. Das neue Runde kommt in Form von Observations Of Humanity und umfasst zehn Tracks. Zehn Tracks voller Brutalität, Morbidität und Deathgrind von der dunkelsten Sorte. Deathgrind steht seit jeher weder für Friede, Freude, Eierkuchen, noch für erfrischende Heiterkeit. Aber was die Jungs von Coathanger Abortion hier abliefern überbietet fast schon alles dagewesene in diesem Segment.
Dunkler, düsterer und morbider hätte man es kaum komponieren können. Die Songs sind von vorne weg brutal und hauen einem durchgängig voll ins Gemüt. Tja, Name ist Programm, anders kann man es eigentlich gar nicht sagen. Ihre Kompositionen sind simpel und pragmatisch gehalten, um sich auf das wichtigste zu konzentrieren. Bestes Beispiel hierfür ist "Wading Through Existence". Dieser Track ist der Inbegriff von Brutalität. Die Riffs sind schroff und stampfend. Am Doublebassspiel gepaart mit dem zermürbenden Bass läuft man als labile Zuhörerschaft schon durchaus Gefahr, sich aus dem 22. Stock eines Wohnhauses zu stürzen. Die Vocals auf Observations Of Humanity tragen natürlich ihr Letztes bei, um die wahrscheinlich brachialste und krankhafteste Neuerscheinung des ersten Halbjahres 2015 zu komplettieren.
Mein Fazit: Absolut geniales Album. Extrem brutales, bitterböses und angsteinflößendes Songmaterial. Dying Fetus und Cannibal Corpse sind fast schon Kindergeburtstage gegen diese wundervoll krankhafte Grind-Scheibe.
Tracklist:
01. Suffering The Weak
02. Media Mindsnare
03. Wading Through Existence
04. Prescription Paradise
05. Coathanger Abortion
06. The Possession
07. Audra Sleeps
08. Forget The Past
09. Hypocritical Majority
10. Detained Indefinitely
Besetzung:
Robby Wooten – Vocals
Jonathon Downer – Guitars
Ryan West Coulter – Bass
Scott McMasters – Drums, Vocals
Internet:
Coathanger Abortion @ Facebook
Coathanger Abortion @ MySpace
Coathanger Abortion @ Reverbnation