Band: Dawn of Disease
Titel: Crypts of the Unrotten
Label: Noiseart Records
VÖ: 2012
Genre: Death Metal
Bewertung: 3,5/5
Written by: Thorsten Jünemann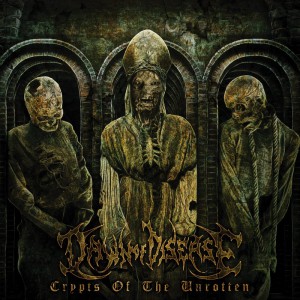 Schweden-Death aus Nord-Deutschland!
Das macht neugierig zu lesen, zumal es ja auch das bereits 2.Album ist, welches DAWN OF DISEASE auf uns Kopfschüttler loslassen.
Lt. Info verfolgt das Album ein Konzept, welches auf die riesigen Gruften Siziliens beruht, und Teilen der Band durch die Faszination auch Inspiration bereitet hat.
Alle musikalischen Merkmale (schweres Intro, mörderisch schneidende Doppelaxen, Blastbeats sowie Growls und Schreie) sind vorhanden, doch klingt meiner Meinung nach vieles einfach bereits zu oft gehört. Nicht kopiert, aber irgendwie ein bisschen "ausgelutscht", da hier auch etwas Innovation und Eigenständigkeit fehlt. Für die Freunde des oldschooligen Deathmetal mit fetten "Schwedenanleihen", ist das aber definitiv ein Hör-Muss / Hörgenuss!
Man geht wirklich mit vollster Härte ans Werk, und toppt auch das sehr fette Debüt, allein im Bereich des Songwritings haben die Jungs einige Schippen draufgelegt und sich einiger Elemente bedient, die man u.a. von ENTOMBED oder CARCASS kennt, um nur einige Beispiele zu nennen.
Der Deathmetal dieser Art wird auf "Crypts Of The Unrotten" regelrecht zelebriert und lässt niemanden kalt (bzw. die "kalten" wieder warm werden 😉 !).
Mein Anspieltipp: "The Unrotten", der so ziemlich alles wiederspiegelt, was auf diesem nicht bahnbrechenden, aber doch Spaß-machenden Album musikalisch verwurstet wird.
Recht vernünftig produziert und schwer rumpelnd verdient sich das Album meinerseits seine 3,5/5 Punkte Karte.
Bitte das nächste Mal noch etwas mehr der eigenen Duftmarke verpassen, und wir können uns gern über mehr Punkte unterhalten. Ansonsten sollte das jeder Old-School-Deathmetal-Fan unbedingt mal anchecken, verdient haben es sich die Niedersachsen auf jeden Fall, teilweise bin ich auch geneigt zu behaupten, dass das einer der fetteren Scheiben in diesem Bereich in diesem Jahr ist.
Gute Musiker, tolles Artwork, sauber produziert-> Ja eigentlich besteht ´ne Check-Pflicht!!!
Tracklist:
01. Descent Into The Abyss 1:33
02. Alone With The Dead (Club / Radio Single) 3:45
03. Knife vs Flesh 3:14
04. The Unrotten 4:34
05. Skinless And Impaled 3:07
06. Enter The Gates 3:50
07. Calcined Bones 4:30
08. Catacombs 5:29
09. Final Resurrection 4:26
10. Devouring Obscurity 2:02
11. But Death Goes On 5:05
Besetzung:
Tomasz (voc)
Oliver (guit)
Lukas (guit)
Michael (bass)
Matthias (drums)
Internet:
Dawn of Disease Website
Dawn of Disease @ MySpace