Band: Demonbreed
Titel: Where Gods Come To Die
Label: Testimony Records
VÖ: 22.07.16
Genre: Death Metal
Bewertung: 4,5/5
Written by: Daniel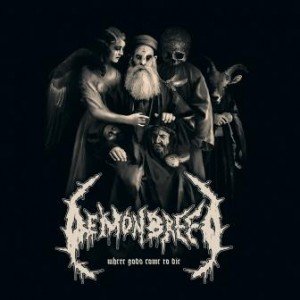 Die erst letztes Jahr ins Leben gerufene Band DEMONBREED ist quasi der Nachfolger der zu Grabe getragenen Lay Down Rotten.
So zumindest ist der Promotext zu deuten, und die Besetzung rechtfertigt diese Behauptung. Also Player an und gespannt gewartet, aber nur nicht zu viel erwartet:
Mit dem ruhigen Intro Where Gods Come To Die baut sich die Spannung auf, das Old School Massaker Vultures In The Blood Red Sky bietet perfekten Death Metal im Entombed – Stil, wobei man sich von Schweden mal wieder solche Tracks wünscht.
Unaufhaltsam walzt man in Folge mit den Abrissbirnen A Thousand Suns Will Rise, Summon The Undead und Revenge In The Afterlife doch glatt mal sowohl den letzten, wie immer saustarken, Grave – Output als auch das sensationelle Firespawn – Debüt ins Abseits!
Und damit nicht genug, "das dicke Ende" kommt noch.
Mächtig fett wird dieses vom melodischen Empty Grave eingeläutet. Mit Red Countess bietet man vom "Full Straight – Geballer" über groovendes Midtempo und morbiden Flair in gut drei Minuten alle Facetten des Genre auf, das mit nordischen Melodien intonierte Perish entwickelt sich nach einer Minute zu einem perfekten Todeskommando, das den Schlund der Hölle öffnet.
Und auch die restlichen Tracks bieten bis auf eine Ausnahme anstandslos das beste Futter für Old School Deather, das man sich als solcher wünschen kann!
Besagte Ausnahme ist das als vorletzter Track etwas fehlplatziert wirkende  Edge Of Sanity – Cover Blood Colored, welches zwar gut gemacht ist, aber den Fluß aus dem Album nimmt und deswegen auch die Höchstnote verhindert.
Trotz des Schönheitsfehlers gilt:
Wer Old School Death Metal zwischen Dismember und Entombed liebt, kommt an WHERE GODS COME TO DIE nicht vorbei. Der Panzer rollt, die Hessen kommen!
Trackliste:
01. Where Gods Come To Die
02. Vultures In The Blood Red Sky
03. A Thousand Suns Will Rise
04. Summon The Undead
05. Revenge In The Afterlife
06. Empty Grave
07. Red Countess
08. Perish
09. Barren Wasteland
10. Folded Hands
11. Blood Colored
12. Seed Of Ferocity
Besetzung:
Jost Kleinert – vocals
Daniel Jakobi – guitars, backing vocals
Fernando Thielmann – guitars, backing vocals
Johannes Pitz – bass
Timo Claas – drums
Demonbreed im Internet: