Band: Devils Train
Titel: II
Label:Ear Music/Edel
VÖ: 2015
Genre: Hard/Heavy Rock
Bewertung: 4/5
Written by: Daniel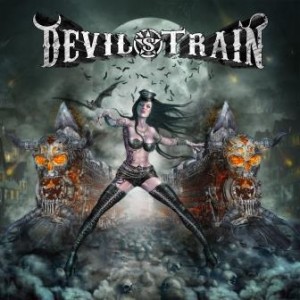 Wieder mal eine Supergroup, doch Devils Train haben diese Bezeichnung wirklich verdient. Nach dem starken, selbstbetitelten Debüt vor knapp drei Jahren legen R. D. Liapakis, Lakis Ragazas (beide Mystic Prophecy), Jari Kainulainen (Masterplan) und Jörg Michael mit II noch einen drauf.
Groovender, modern produzierter Hard Rock ist erneut Programm und offeriert elf Mal ganz große Klasse. Neben den exzellenten Groovern Down On You, Can You Feel, Let`s Shake It, Girl Like You und Suffocated bekommt man mit Hollywood Girl und Thunderstorm auch hervorragende Hymnen.
Mit der bluesigen Note macht II eine Menge Laune, der Funfaktor ist unglaublich hoch. So kennt man das von bekannteren Musikern eher selten, doch hier sind offensichtlich nicht nur Profis, sondern vor allem Vollblutmusiker am Werk. II atmet den Geist des "Good Old Rock N Roll" und überzeugt fast komplett.
Besonders gelungen sind Mr. Jones und You And Me die mit einer gewaltigen Extraportion Blues für noch mehr Abwechslung sorgen.
Ganz gut gelungen (und vor allem lyrisch nach wie vor aktuell) ist das Led Zeppelin Cover Immigrant Song, unnötig – weil bis zum erbrechen totgespielt – und mir einen Tick zu hart ist die Coverversion von Steppenwolfs Born To Be Wild.
Starkes, eigenes Material und zwei Cover die man zwar nicht braucht, aber mitnehmen kann machen Devils Train für Freunde guter Rockmusik zur Pflicht, vor allem wenn man Tesla, Velvet Revolver, Bad Company und Badlands zu seinen Lieblingen zählt.
Trackliste:
01. Down On You
02. Hollywood Girl
03. Gimme Love
04. Mr. Jones
05. Can You Feel
06. Rock Forever
07. Let's Shake It
08. Girl Like You
09. Born To Be Wild
10. You And Me
11. Thunderstorm
12. Suffocated
13. Immigrant Song (Bonus Track)
Besetzung:
R.D. Liapakis – vocals
Laki Ragazas – guitars
Jari Kainulainen – bass
Jörg Michael – drums
Devils Train im Internet:
Homepage