Don´t Drop The Sword – Path To Eternity
Band: Don't Drop The Sword
Titel: Path To Eternity
Label: Selfreleased
VÖ: November 2017
Genre: Heavy/Power Metal
Bewertung: 4/5
Written by: Lex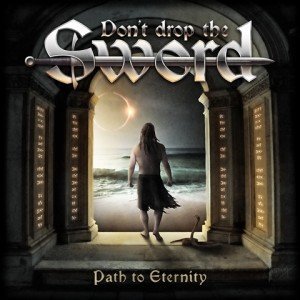 Die selbst veröffentlichte EP dieser jungen Band hatte ich ja begeistert über eine Bandcamp-Durchforstung entdeckt. Ich hätte nicht unbedingt erwartet, dass Don´t Drop The Sword noch vor Ende des Jahres ein vollwertiges Album mit 60 Minuten Spielzeit folgen lassen würde.
Zum Glück bleiben die Bayern ihrer Mischung treu und setzen weiterhin auf die Qualitäten, die schon "Into The Fire" zu einem kleinen Newcomer-Kleinod machten: Unkomplizierter Heavy/Power Metal irgendwo zwischen Hammerfall (aber nicht so handzahm) und Blind Guardian (mit Lagerfeuerflair und packenden Mitsingparts, aber ohne den ganzen unnötigen Bombast).
Die Traditionalisten aus Bayern bleiben ihrer Handschrift also treu – aber nicht ohne sich innerhalb der gesteckten Grenzen weiter zu perfektionieren. Insbesondere verorte ich zwingendere Widerhakenmelodien und mehrstimmige (und dabei immer erdige) Refrains.
"Rotten Wings", "To The Proud A Grave", "Jester´s Tears" mit "Hero Of All Times", sowie der Titeltrack als Abschluss sollten jeden geeigneten Hörer von der Qualität dieser Kombo überzeugen.
Tracklist:
01 Guardians Of Light
02 Rotten Wings
03 We Deal In Lead
04 Drums In The Deep
05 To The Proud A Grave
06 Blood Will Decide
07 Banished To Nightly Realms
08 Wastelands Of War
09 Siren Song
10 Jester's Tears
11 Hero Of All Times
12 King Of The Dragon Age
13 Saphire Skies
14 Path To Eternity
Besetzung:
Anti (Vocals)
Max (Lead Guitar, Backing Vocals)
Alvin (Rythm & Lead Guitar)
Mathias (Bass)
Dom (Drums
Internet:
Don´t Drop The Sword Website
Don´t Drop The Sword @ Facebook
Don´t Drop The Sword @ Instagram