Band: Evergrey
Titel: The Storm Within
Label: AFM Records
VÖ: 09.10. 2016
Genre: Progressive/Power Metal
Bewertung: 3,5/5
Written by: Daniel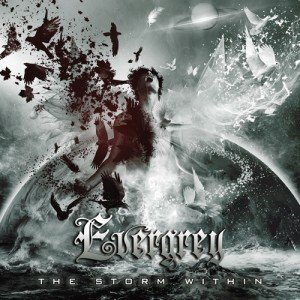 Mit den Schweden hat man so seine Probleme. Seit zwanzig Jahren treiben sie ihr Unwesen auf hohem Niveau, aber so richtig greifbar sind sie selten gewesen. So ist es auch bei THE STORM WITHIN, dem zehnten Album.
Während Distance bei mir spätestens beim Kinderchor gegen Ende auf Abstand geht, ist Passing Through sehr griffig, vielschichtig und geht nach vorn. Ebenfalls stark genacht sind Someday und Astray, auch wenn hier der Knoten nicht so richtig platzen will.
Die Ballade The Impossible reines Füllmaterial, was das kraftvolle und relativ harte My Allied Ocean aber wieder gut macht.
Hin und her ist man gerissen, die beiden mit Floor Jansen am Mikro eingespielten In Orbit und Disconnect sind da eine gute Referenz. Während In Orbit zu zahm arrangiert ist und dem großartigem handwerklichen Können aller Protagonisten nicht gerecht wird, hat Disconnected die fehlende Attribute:
Eine Hookline um den Hörer einzufangen sowie eine gute Dramaturgie, um ihn endgültig zu fesseln.
Songs von dieser Güte gibt es hier einfach zu wenig. Das Englund – Gesangsdoppel The Paradox Of The Flame, The Storm Within und The Lonely Monarch sowie das oben erwähnte Passing Through, das war es dann auch. Diese Songs setzen die Messlatte hoch, und ist der Rest auch handwerklich ebenfalls Spitze: kompositorisch sind sie "nur" oberer Durchschnitt.
Trackliste:
01. Distance
02. Passing Through
03. Someday
04. Astray
05. The Impossible
06. My Allied Ocean
07. In Orbit
08. The Lonely Monach
09. The Paradox Of The Flame
10. Disconnect
11. The Storm Within
Besetzung:
Tom S. Englund – Gesang, Gitarre
– Rikard Zander – Keyboard, Hintergrundgesang
– Johan Nieman – Bass, Hintergrundgesang
Henrik Danhage Gitarre, Hintergrundgesang
Jonas Ekdahl – Schlagzeug
Evergrey im Internet:
Homepage