Band: Face Off 
Titel: The Colour Of Rain
Label: Maple Metal Records
VÖ: 2013
Genre: Alternative Metal
Bewertung: 3,5/5
Written by: Thorsten Jünemann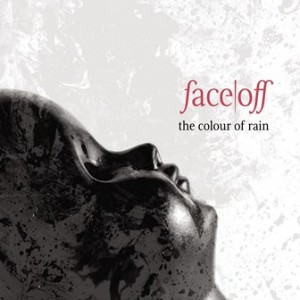 Hmmm…
Schwer zu erklären, welchem Metal Stil die Band FACE OFF aus Serbien sich verschrieben hat, ich würde es Female-Fronted Alternative/New Metal nennen, der druckvoll in die verwöhnten Ohren geht, aber leider keine wirklichen musikalischen Widerhaken hinterlässt.
An der weiblichen Stimme liegt es nicht, denn es wird weder geheult noch geträllert. Könnte an dem eher durchschnittlichen Songmaterial liegen, welches wirklich nicht eine einzige Überraschung parat hält sondern sich durchgehend auf einem und denselben Level bewegt.
Obwohl die Band lt. Info bereits mehrere Band-Contests in Ihrer Heimat für sich gewinnen konnte und seit 2006 aktiv ist, habe ich das Gefühl, dass seitdem auch im Songwriting etwas Stagnation vorherrscht.
Auch nach der drölfzigsten Rotation des Albums kann ich nur zu dem Entschluss kommen, dass die Band seit ihrer Gründung stets und ständig nur an diesen 9 Songs gearbeitet hat und dabei die Sicht auf Weiterentwicklung verlor, denn letztendlich verfiel man (Frau) etwas der Monotonie, was heißen soll, dass sich mehrere Songs einfach zu sehr ähneln.
"Never Change A Winning Team" bedeutet nicht, kopier dich selbst so gut es geht, sondern bleib bei Deinen Leisten, verliere aber nicht den Blick auf die Gesamtheit der Songs, die zwar das Prädikat gut verdient hätten, es aber leider nur in den Gehörgang der Belanglosigkeit schaffen.
Radio- und Fahrstuhlmusik für Alternativ-Metaller, denn die gehörten, bzw. studierten Nummern tun zu keiner Zeit weh, bewegen aber auch in mir überhaupt nichts…
Tracklist:
01. The Color of Rain 5:35
02. Dream Chamber 5:15
03. Close Enough 4:38
04. War against War 4:31
05. The Innocence 4:36
06. Voices 4:04
07. Fragile 4:21
08. Lost in Translation 4:51
09. The End 4:37
Besetzung:
Marija Kovacevic (voc)
Stefan Vitasovic (guit)
Aleksandar Djordjic (guit)
Stanislav Stanojevic (bass)
Internet:
Face Off @ Reverbnation