Fit For An Autopsy – Hellbound (CD Review)
Band: Fit For An Autopsy
Titel: Hellbound
Label: SPV / Steamhammer
VÖ: 2013
Genre: Deathcore, Death Metal
Bewertung: 3,5/5
Written by: Oliver Lackner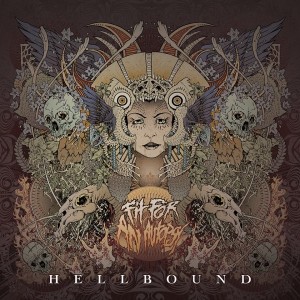 "Fit For An Autopsy" aus New Jersey/USA präsentieren uns ihr aktuelles Werk. Das gute Stück steht bereits seit Oktober in den Regalen. Deathcore vom feinsten wird versprochen.
"Hellbound" heißt das gute Stück. Zehn Tracks mit relativ kurzen Spielzeiten lassen auf spannenden Sound hoffen. Von vornherein kraftvoll mit ordentlich Druck und Aggressivität dürften die Jungs aus Jersey wohl so ziemlich jeden faul gewordenen Metalhead zum Aufhorchen bringen. Ob das Album auch wirklich den Erwartugnen entspricht?
Auffallend vor allem die gelungene Mischung diverser Elemente. Rhytmisch mit guten Melodien und doch strotzt das Ganze nur so vor dem "mitten in die Fresse rein" Feeling. Absolut hörenswerte Riffs werden ergänzt durch kraftvolle Drums und einer mächtigen Stimme die dem Ganzen den finalen Schliff gibt.
Der Einstieg ins Album fällt relativ leicht. Eigentlich ist "The Great Gift Of The World" sogar der besonnenste Titel des Silberlings. Anfangs recht ruhig wächst das Ganze zu dem aggressiven Sound, der sich auch im restlichen Album wiederfindet. Und genau hier finde ich auch meinen einzigen, echten Kritikpunkt. Trotz der kurz und knackig gehaltenen Tracks schleicht sich für mich recht schnell etwas Langeweile ein. Das Ganze ist einfach nix neues und fügt sich nahtlos in den allgemeinen Brei des Core Genres ein.
Fazit: Im Allgemeinen ein gelungenes Album jedoch könnte das ganze eben auch von so ziemlich jeder anderen talentierten Deathcore Truppe stammen. Gesamtzusammensetzung des Sounds und Gesangs sowie die etwas zu oft verwendeten sogenannten Drops hinterlassen den faden Nachgeschmack des "schon mal gehört". Fans des Genres werden das gute Stück sicherlich hochleben lassen, für mich persönlich allerdings definitiv kein Dauerbrenner.
Tracklist:
01. The Great Gift Of The World
02. Still We Destroy
03. Thank You Budd Dwyer
04. Do You See Him
05. Tremors
06. Dead In The Dirt
07. There Is Nothing Here Worth Keeping
08. Mother Of The Year
09. Children Of The Corn Syrup
10. The Travelers
Besetzung:
Nate Johnson (voc)
Will Putney (guit)
Patrick Sheridan (guit)
Shane Slade (bass)
Josean Orta (drums)
Internet:
Fit For An Autopsy @ MySpace