Band: Force Majeure
Titel: The Rise Of Starlit Fires
Label: Mighty Music
VÖ: 08.09.2017
Genre: Melodic Power Metal
Bewertung: 4/5
Written by: Lex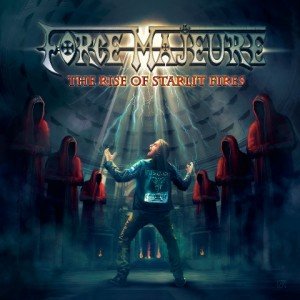 "Force Majeure" haben sich satte sechs Jahre Zeit genommen, um an ihrem dritten Longplayer zu feilen. Dementsprechend ausgereift und durchdacht dröhnen mir auch die ersten drei Tracks des Albums entgegen, so dass ich mir bereits zu dem Zeitpunkt keine durchschnittliche Wertung vorstellen kann, obwohl der berühmte Funke noch nicht überspringen will.
Der vierte Song "The Great Starfall" lässt den Zustimmungs-Zeiger dann noch um einen halben Punkt nach oben schnellen: Kein Übersong, aber definitiv ein zwingender Ohrwurm mit dem die Band mich für sich eingenommen hat. Die Erwartungen werden auch im weiteren Hörverlauf gehalten, es wird turbulenter und gespickt mit unerwarteten Überraschungen. "Church Of Steam" hält souverän das erreichte Niveau. Und wo mit "Pantheon Of My Passion" das 80er-Keyboard erwartungsgemäß seinen rechtmäßigen Platz auf einem Melodic Power-Album einnehmen darf, rast das für Genreverhältnisse zappendüstere "The Darkening" mit (freilich ganz leichten) Anleihen an schwarzwurzelige Raserei durch die Riff-Gewitterwolken. Mit "Subarctic Showdown" dürfen wir Melodic Power Metaller dann aber wieder mit wehendem Wind in den Haaren auf geflügelten Delphinen dem funkelnden Sonnenuntergang entgegenhoppeln. (Hoppla, mein Gehirn produziert wieder halluzinogene Visionen beim Plattenbewerten).
Da stört es auch nicht weiter, dass für eine Höchstnote noch so Dinge wie definierende Songs, Übersongs, und klare Alleinstellungsmerkmale gegenüber dem Rest der Konkurrenz fehlen. "The Rise Of Starlit Fire" ist somit für Genrefans sicher ein gefundenes Fressen, in das merklich Hirn, Herzblut und Schweiß investiert wurde.
Tracklist:
01. Gemini Rising
02. Apocalyptic Hearts
03. Blessed by the Wolves
04. The Great Starfall
05. Church of Steam
06. Pantheon of My Passion
07. The Darkening
08. Subarctic Showdown
Besetzung:
Marcus Lång (Vocals)
Tuomas Väänänen (Bass)
Eemeli Ojanen (Guitar)
Jussi Reuhkala (Guitar)
Jaakko Nylund (Drums, Orchestra)
Internet:
Force Majeure Website