Band: Interment
Titel: Scent Of The Buried
Label: Pulverised Records
VÖ: 01. April 2016
Genre: Swedish Old School Death Metal
Bewertung: 4/5
Written by: Lazer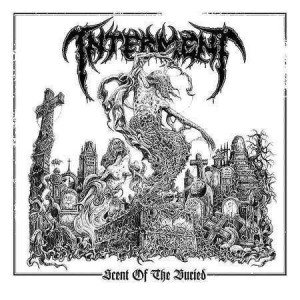 Interment legen uns mit "Scent Of The Buried" ein neues Album vor. Die schwedischen Old School Death Metaler sind nun insgesamt schon seit 1988 in der Szene unterwegs und immer noch nicht müde.
In ihren ersten beiden Jahren (1988 – 1990) machten sie noch als Beyond die Clubs unsicher, ehe sie sich 1990 neu formierten und unter jetzigem Namen Interment Musik machten. Im Jahre 1994 jedoch kam es zu einem Still-legen der Band. Dieses "no-playing-intermezzo" dauerte jedoch ganze acht Jahre. Seit 2002 sind sie nun in der aktuellen Besetzung unterwegs. Interment veröffentlichten seit 1991 schier unzählige Demos, Splits, Singles und Kompilations. "Scent Of The Buried" ist das zweite Full-Length-Album der Mannen aus Avesta. Ob die zehn Tracks überzeugen können?
Seit jeher stehen Interment für Morbidität, Tot, Teufel und Dunkelheit. Dies ändert sich auch mit dem neuesten Output anno 2016 nicht. Knapp 40 Minuten wird hier geshreddert was das Zeug hält. Die Genrebezeichnung Swedisch Old School Death Metal trifft einfach nur den Nagel perfekt auf den Kopf. Interment gehen bei "Scent Of The Buried" in die Vollen, ohne Rücksicht auf Verluste.
Die Tracks sind knallhart und pressen an, ohne Ende. Ohne Umschweife, ohne großartigen Firlefanz, spielen die Hühnen aus dem Norden einfach drauf los. Aber alles fein dosiert und gekonnt. Man hat immer das Gefühl, man weiß, wo man sich befindet. Interment verbauen sägende Riffs und verspielte Soli mit drückendem Bass und treibenen Drums zu einem sehr leicht hörbaren, gut eingehenden Teig. Die Garnitur bilden aggressive aber dennoch auch wunderbar
dosierte Vocals.
Mein Fazit: "Scent Of The Buried" von Interment hat den Charme einer Kettensäge, ist hart, schroff und brutal. Die Truppe versteht sich, nicht überaus zu experimentieren, sondern das zu machen, was sie am besten können – die Saiten zum Glühen zu bringen. Fabelhaft.
Tracklist:
01. Death And Decay
02. Sinister Incantation
03. Chalice Of Death
04. Repugnant Funeral
05. Scent Of The Buried
06. Rise Of The Dead
07. Unholy Upheaval
08. Dawn Of Blasphemy
09. Skull Crushing Carnage
10. Nailed To The Grave
Besetzung:
Johan Jansson – Vocals, Guitars
Torbjörn Brynedal – Guitars
Allan Lundholm – Bass
Kennet Englund – Drums
Internet:
Interment Website