Band: Ivory Gates
Titel: The Devil´s Dance
Label: MS Metal Records
VÖ: 2011
Genre:  Progressive/Melodic Metal
Bewertung: 3/5
Written by: Thorsten Jünemann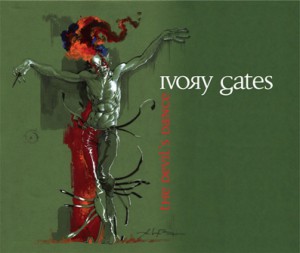 IVORY GATES zeigen auf ihrem 3.Output, dass nicht nur Power- & Thrash Metal aus Südamerika kommt, sondern auch beinharter Heavy Metal mit fetten Progressive Metal Einlagen.
Nach einer längeren Pause kommen IVORY GATES nun mit "The Devil´s Dance" aus Tasche und können die Fans ihrer Musik beruhigen: Alles beim alten, ohne Stillstand bewahrt zu haben.
Gleich der erdige Heavy Metal Opener "Beyond The Black" (KEIN METAL CHURCH Cover!) zeigt dem Hörer, was einem noch so alles erwartet, während der Titeltrack beinahe schon Hitpotenzial aufweist. Was ich damit meine?
Hört selbst! Kerniger Metal nahe am Thrash.
Auch im Laufe der noch folgenden Nummern wird dem Hörer immer bewusster, dass da nicht nur irgendwelche brasilianische "trilli-trala-und-jetzt-prog-bumm-rumpeltrilli-und-fidel-dich-kaputt-trallo"-Musiker am Werke sind, sondern es auch sehr anspruchsvoll zugeht.
Nein, es sind keine südamerikanischen RUSH oder DREAM THEATER. Aber die Mannen sind auf einem guten Weg, sich einen Namen im Prog-Metal zu machen.
Nachdem ich recht überrascht und erfreut über die Albumnummern immer näher in Richtung CD-Ende komme, sehe ich, dass der "Rausschmeißer" knapp 22 Minuten Länge vorweist und ich bekomme doch etwas Angst, etwas zu viel über den grünen Klee gelobt zu haben.
Bis jetzt müssen sich die Brasilianer auch den einen und anderen Vergleich mit THRESHOLD gefallen lassen, ohne deren Klasse zu erreichen oder wie Kopierer zu klingen.
Und nun den 22 Minuten expliziten Heavy-Progressive-Metal Abschluss:
Es ist nicht alles schlecht, was die Jungs hier auffahren. Leider gelingt es aber nur zu selten, ein stämmiges Songgerüst zu wahren, bzw. zu halten so dass man öfter das Gefühl bekommt: JETZT haben sie sich in ihrem eigenen Kosmos verloren. Schade eigentlich.
Wer aber als Headbanger auch progressiven Tönen etwas abgewinnen kann, der sollte mal reinhören.
Tracklist:
01. Beyond the Black
02. Devil's Dance
03. Endless Nightmare
04. Serpent's Kiss
05. Under the Sky of Illusions
06. Imaginary World
07. Suite Memory
Besetzung:
Felipe Travaglini (voc)
Heitor Mazzotti (guit)
Matheus Armelin (guit)
Hugo Mazzotti (bass)
Fabricio Félix (drums)
Internet:
Ivory Gates Website
Ivory Gates @ MySpace