Band: Edguy
Titel: Age Of The Joker
Label: Nuclear Blast
VÖ: 2011
Genre: Power Metal
Bewertung: 4,5/5
Written by: Chris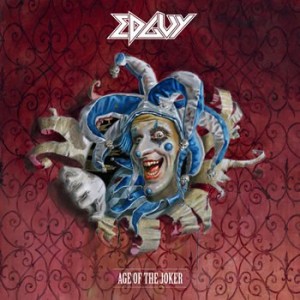 Tobias Sammet hat wohl einfach zu viel Zeit. Zuerst auf Tour mit Edguy als Support der Scorpions, dann gleich ein Doppelalbum, eine Tour und eine DVD mit Avantasia und jetzt ein neues Album mit Edguy bevor es auf eine ausgedehnte Tour mit dieser Band geht. Ich glaube kaum, dass dem Herrn da langweilig wird.
Langweilig wird einem aber auch beim eben erwähnten neuen Output der deutschen Metal-Hoffnung, den die Jungs The Age Of The Joker tauften, aber auch nicht. Da man ja auf dem letzten Release der Band, Tinnitus Sanctus schon ein paar Parallelen zwischen Tobi's Soloprojekt und seiner Band feststellen konnte (vor allem Dragonfly hätte auch gut auf ein Avantasia-Werk gepasst) , war auch hier wieder klar, dass es leichte Ähnlichkeiten bei Songs geben wird. Das schnelle The Arcane Guild oder auch das teilweise auch mit Sabaton-Elementen aufwartende Breathe können doch auch mit Songs der letzten Avantasia-Outputs verglichen werden. Dazu kommen noch ein paar Hard-Rock Nummern, die sicherlich auch leicht beeinflusst von der Tour mit den Scorpions oder Tobi's Arbeit mit Bob Catley. Das Tempo wird allgemein etwas zurück geschraubt, wobei man aber auf neue Elemente wie den Folk-Einsatz in Rock Of Cashel oder die bluesigen Gitarren in Pandora's Box. Mit Every Night Without You ist natürlich auch wieder eine Ballade auf The Age Of The Joker vertreten, die jetzt zwar nicht mit Gänsehautsongs wie Save Me mithalten kann, aber trotzdem durchaus gelungen wirkt. Es soll jetzt nicht heißen, dass die neue Edguy-Scheibe jetzt keine typischen Edguy-Songs beinhaltet. Der Opener Robin Hood, der ja als erste Single trotz offensichtlicher Überlänge gewählt wurde oder auch Fire In The Downline oder Behind The Gates To Midnight sind typische Edguy-Nummern, die durchaus bei Fans der Band punkten können.
Fazit: Was bleibt nun zum neuen Edguy-Output zu sagen? Die Band konzentriert sich wieder auf ihre Stärken, lässt weniger Avantasia-Elemente zu als auf Tinnitus Sanctus und schafft dadurch ein sehr interessantes Album, auf dem vor allem Pandora's Box, Breathe und Two Out Of Seven empfehlenswert sind.
Tracklist:
01. Robin Hood 08:26
02. Nobody's Hero 04:33
03. Rock of Cashel 06:20
04. Pandora's Box 06:47
05. Breathe 05:05
06. Two Out of Seven 04:29
07. Faces in the Darkness 05:24
08. The Arcane Guild 05:00
09. Fire on the Downline 05:48
10. Behind the Gates to Midnight World 08:58
11. Every Night Without You 04:52
Besetzung:
Tobias Sammet (voc)
Jens Ludwig (guit)
Dirk Sauer (guit)
Tobias Exxel (bass)
Felix Bohnke (drums)
Internet:
Edguy @ MySpace