Band: Jorn
Titel: Bring Heavy Rock To The Land
Label: Frontiers Records
VÖ: 2012
Genre: Heavy Metal, Progressive, Rock
Bewertung: 4,5/5
Written by: Thorsten Jünemann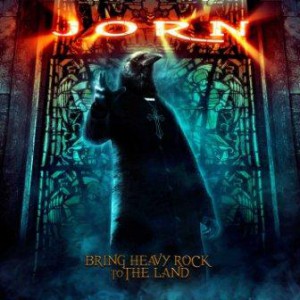 Der Meister ist nach einer kurzen Pause zurück und die Auszeit tat dem Mann mit der unglaublichen Heavyrock-Stimme einfach nur gut!
Und es gibt auch fast nix zu meckern, unglaublich!
Auch auf diesem Album sind alle Jorn´schen Trademarks enthalten:
Mal klingt er besser als Coverdale himself, mal klingt´s unglaublich nach DIO (Rest In Peace My Friend), das Tempo der Songs variiert öfter als auf den letzten Outputs was dem Norweger und seiner Mannschaft sehr gut zu Gesicht steht denn das Album klingt dennoch wie aus einem Guss in einem Fluss!
Manko:
Was hat ihn dazu geritten, "Time To Be King" von MASTERPLAN nochmal aufs Korn zu nehmen? Es ist zwar kein Ausfall oder Füller in dem Sinne, aber ich hätte mir dafür gern noch eine neue Komposition gewünscht.
Mehr geht auch eigentlich nicht mehr zu sagen, denn wo JORN draufsteht, ist auch JORN drin!
Ohne Wenn und Aber: 4,5/5 Punkte
Tracklist:
01. My Road
02. Bring Heavy Rock To The Land
03. A Thousand Cuts
04. Ride Like The Wind
05. Chains Around You
06. The World I See
07. Time To Be King
08. Ride To The Guns
09. Black Morning
10. I Came To Rock
Besetzung:
Nic Angileri (bass)
Jorn Lande (voc)
Tore Moren (guit)
Jimmy Iversen (guit)
Willy Bendiksen (drums)
Internet:
Jørn Website
Jørn @ MySpace