Band: Melodius Deite
Titel: Episode II: Voyage Through The World Of Fantasy
Label: Inazuma Productions
VÖ: 2015
Genre: Symphonic Melodic Progressive Power Metal
Bewertung: 3/5
Written by: Lazer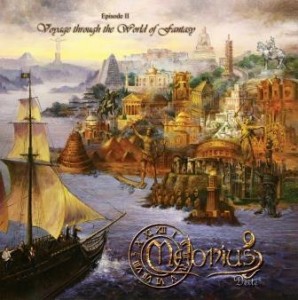 Metal aus Thailand, und dann noch gleich dazu ein Genre, dass sich hören lassen kann. Denn die Jungs von "Melodius Deite" geben auf ihrem Zweiten Album – Episode II: Voyage Through The World Of Fantasy feinsten Symphonic Melodic Progressive Power Metal zum Besten. Zugegeben, ein solches Genre und das ausgerechnet aus Thailand – na das kann was werden. Die Jungs aus Bangkok jedoch sind sehr professionell und beherrschen ihr Arbeitsgerät ausgezeichnet. Nach dem Intro legen sie los wie die Feuerwehr und brennen ein 1 Stunde 17 Minuten Spektakel ab, sodass es einem die Ohren anlegt. Sehr druckvoll und mit Highspeed bashen Melodius Deite ihre Tracks durch die Ausgabegeräte. Das Klangbild kann sich jedenfalls hören lassen. Die Arrangements sind ordentlich und überlegt. Die klassischen Elemente kommen hier wirklich toll rüber und sind sehr passend, jedoch übertreiben Melodius Deite hier auch manches Mal ein klein wenig mit viel zu bekannten Melodien. Hier wäre etwas weniger eben etwas mehr gewesen. Am Songwriting müssen die Mannen aus Thailand auch noch dezent schrauben, aber ansonsten ist dies ein wirklich recht ordentliches Album.
Mein Fazit: Episches Power Metal- oder symphonisches Progressive Speed Metal-Album, das gehörig Bumms mitbringt und technisch einwandfrei umgesetzt wurde. Ab und An könnte man noch ein paar Kleinigkeiten verbessern, aber Potential ist definitiv vorhanden.
Tracklist:
CD1:
01. Entering The Gate
02. Land Of Fantasy
03. The Dawn Of Journey
04. Territory Of Memories (Atlantis)
05. Civilization
CD2:
06. The Sun Of Aztec
07. Alexander The Great
08. Pyramids Of Egypt
09. Dailing Around The World
Besetzung:
Ake N. Keartpanich – Vocals
Biggie P. Phanrath – Guitars, Keyboards, Backing Vocals
Bookkie P. Phanrath – Drums & Percussions
Ohm S. Dejkong – Bass
Oatdy P. Keartpanich – Guitars, Backing Vocals

Internet:
Melodius Deite Website