Band: Merciless Death
Titel: Taken Beyond
Label: High Roller Records/Soulfood
VÖ: 06. 05. 2016
Genre: Thrash Metal
Bewertung: 2,5/5
Written by: Daniel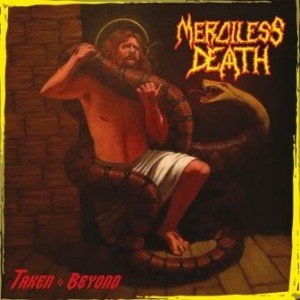 Die kalifornische Thrash Band holt zum dritten Rundumschlag aus und wird auch diesmal wohl nur die hartgesottenen early eighties Fans begeistern.
Im Stile alter Slayer und Kreator oder Bands wie Aftermath (in der zweiten Phase) rumpelt man mit (Creation) The First Temptation (dessen Intro mehr erwarten lässt) in das gesunde Mittelmaß der Highspeed Thrash Ergüsse, was ich hier weder gut noch schlecht bewerten kann.
Im weiteren Verlauf der guten halben Stunde gibt es mit dem zwischen Slayer und Possessed angelegten  Baptism At The Skull sowie mit dem endlich mal nicht nur auf Geschwindigkeitsübertretung getrimmten The Evil Of The Night auch Ausschläge nach oben, aber so richtig hängen von TAKEN BEYOND bleibt nur der Absacker (Prepare The Soul) Taken Beyond.
MERCILESS DEATH kommen zwar zu jeder Zeit sehr sympathisch rüber, aber die Tracks sind einfach zu gewöhnlich. Viele Elemente hat man zu oft gehört und daher kann man die Truppe nur Hardlinern empfehlen. Und die werden mit diesem Album ihren Spaß haben.
Trackliste:
01. (Creation) The First Temptation
02. Manifestation
03. Witches Spell For Death
04. Baptism At The Skull
05. Oath Of Revenge
06. The Evil Of The Night
07. Christians Of Gomorrah
08. Convictions
09. (Prepare The Soul) Taken Beyond
Besetzung:
Andy Torres – vocals, bass
Dan Holder – guitars, drums
Merciless Death im Internet: