Midnite Hellion – Condemned To Hell
Band: Midnite Hellion
Titel: Condemned To Hell
Label: Witches Brew Records
VÖ: 15.09.2017
Genre: Heavy Metal
Bewertung: 2/5
Written by: Lex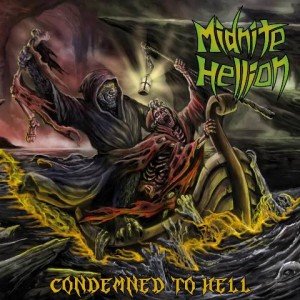 "Condemned To Hell" ist eine stilistisch zwiespältige Angelegenheit: Während der ersten vier Tracks zeigt sich die Band leicht thrashig angehaucht mit nervigem Gröhlgesang. Die restliche Hälfte des mit 37 Minuten recht kurzen Albums ist die etwas Bessere, und bietet  klassischen Heavy Metal mit Vocals, die da und dort etwas an James Hetfield erinnern.
Erinnern wird man sich nach ein paar Runden mit dem Album am ehesten an "Teenage Bloodsuckin´ Bimbos", bei dem ich allerdings teilweise das Gefühl hatte, einen durchschnittlichen Onkelz-Song am Laufen zu haben. Keine ideale Referenz für klassischen Stahl, würde ich sagen.
"Condemned To Hell" ist im Großen und Ganzen, trotz einiger kümmerlicher Ansätze von Potential, durchschnittlich bis mies geraten. Langeweile gibt´s auch gratis.
Tracklist:
01. Black and White
02. Death Dealer
03. Cross The Line
04. Enter The Nightmare
05. Soldiers of Hades
06. The Fever
07. Rip It Up
08. The Morrigan
09. Teenage Bloodsuckin' Bimbos
Besetzung:
Drew Rizzo (Drums, Backing Vocals)
Rich Kubik (Bass, Vocals)
Jeremy Moles (Guitars)
Internet: