Band: MONO INC.
Titel: Together Till The End
Label: NoCut
VÖ: 13.01.2017
Genre: Alternative / Dark Rock
Bewertung: 4/5
Written by: Rubi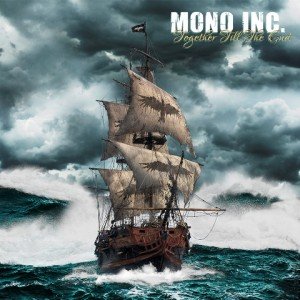 MONO INC. laden ein, auf eine Zeitreise ins Jahr 1722. Eine Schifffahrt, kurz vor dem Erreichen des Zieles geschieht ein Unglück und nur wenige Besatzungsmitglieder können sich ans Ufer retten. Diese Mitglieder erzählen nun die Geschichte der Reise in Retrospektive.
Eröffnet wird die Show durch "The Bank Of Eden" danach folgt "Together Till The End" der, wie der Titel bereits verrät, von Zusammenhalt und Kameradschaft handelt. Nach und nach wird immer mehr von der Geschichte preisgegeben. In "Boatman" wird von den Motiven der Reisenden gesungen. Was hat sie dazu bewegt in eine unbekannte und gefahrvolle Welt aufzubrechen? Mit "Out In The Fields" wird ein berührendes Lied, das eigentlich von Gary Moore stammt, aufgefrischt. Ein gelungenes Cover, denn die Gruppe hat den Song zu ihrem eigenen gemacht. Track 5 unterstreicht das gesangliche Talente der Hamburger. Kaum hörbare Musik und die Stimmen der Band im Vordergrund. Dies macht das ohnehin gefühlvolle Ganze, noch emotionaler und ehrlicher. "Children Of The Dark" ein Song, bei dem ich mir jetzt schon vorstellen kann, dass er zu einem Favoriten von jedem auf dem Album sein wird. Eine Kampfansage, die durch das Mitwirken von Joachim Witt, Tilo Wolff (Lacrimosa) und Chris Harms (Lord of the Lost), an Stärke gewinnt.
Beim Hören der nächsten Songs verfällt man in eine andere Welt. Man stellt sich die Szenarien bildlich vor und genau das macht die Platte interessant. Zu meinen persönlichen Favoriten zählen: "Children Of The Dark", "Out In The Fields", "Across The Waves".
Die einzelnen Songs hängen zwar zusammen und erzählen eine Geschichte, können aber auch einzeln interpretiert werden und sind somit unabhängig voneinander. Der ein oder andere Song (z.B. "Together Till The End") hat sich speziell im Refrain doch sehr eingängig angehört und hatte fast schon einen Popmusik-Flair. Dies wurde aber meistens durch ein paar Gitarrenschläge wieder "behoben". Somit wäre das einzige Auszusetzende auch gestrichen. Jeder hat beim Hören der Songs ein anderes Bild im Kopf und interpretiert so die Geschichte bestimmt auch anders. Eine Scheibe die bei jedem Mal hören neu entdeckt werden kann. Ein gelungenes und vor allem vielseitiges Konzeptalbum!
PS: Termine für Liveaufritte in Deutschland gibt es bereits!
Tracklist:
01. The Bank Of Eden
02. Together Till The End
03. Boatman feat. Ronan Harris
04. Out In The Fields
05. The Tide
06. Children Of The Dark feat. Tilo Wolff, Joachim Witt & Chris Harms
07. Forever And A Day
08. Across The Waves
09. There Comes A Time (Back To Life)
10. Rome Wasn't Built In A Day
11. This Is My Life
12. Eden (Reprise)
Besetzung:
Martin Engler – Vocals
Katha Mia – Drums
Carl Fornia – Guitars
Manuel Antoni – Bass
Internet:
MONO INC. Website