Band: Nightmare
Titel: The Aftermath
Label: AFM Records
VÖ: 2014
Genre: Heavy Metal
Bewertung: 4/5
Written by: Lex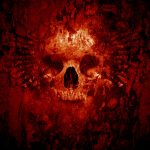 Nightmare sind für mich (wieder einmal) eine Neuentdeckung, die mehr Jahre auf dem Buckel hat als ich auf diesem Planeten lebe: 1979! So richtig los ging es nach zwei Alben Mitte der 1980er aber erst im Jahre 1999.
Das ist immer noch länger her, als ich mir laut Gesetz eine Marlboro anzünden darf. Man nehme einen Sänger, der ein bisschen was von Ronnie James Dio hat, aber doch einen ganzen Zacken härter klingt. Das ganze Schnitzel dann mit harten, an den Thrash Metal-Bereich grenzenden Riffs zurechtverprügeln. Und eine durchgängig eher dunklere Grundstimmung schaffen für den alle Jahre regelmäßig stattfindenden Grillabend. So kann man unmöglich an allzu vielen Geschmäckern vorbei kochen.
Die Mannen kommen aus Frankreich, aber die 10 Songs plus gelungene Intro sind alles andere als fade Froschschenkelsuppe. Hier gibt es echt was zu fressen für die Fresse. Stahl, keine Baguettes. Modern und gut geschmiedet.
Meine Favoriten des Albums: Invoking demons, The Bridge is Burning und Alone in The Distance.
Manchmal wäre mir etwas weniger Thrash im Gitarrenbereich lieber gewesen, da ich meinen Heavy Metal doch gern etwas altbackener und im Hardrock verwurzelt genieße. Aber genau für dieses modernere Agieren werden Nightmare von anderen wahrscheinlich besonders geliebt. Kein Meisterwerk, aber ein wirklich durchgängig gutes Album.
Tracklist:
01. The Aftermath (Intro)
02. Bringers Of A No Man's Land
03. Forbidden Tribe
04. Necromancer
05. Invoking Demons
06. I Am Immortal
07. Digital DNA
08. Ghost In The Mirror
09. The Bridge Is Burning
10. Mission For Good
11. Alone In The Distance
Besetzung:
Jo Amore (Lead Vocals)
Franck Milleliri (Guitars)
Matt Asselberghs (Guitars)
Yves Campion (Bass & vocals)
David Amore (Drums)
Internet:
Nightmare Website
Nightmare @ MySpace
Nightmare @ Reverbnation