Band: Overdrive
Titel: The Final Nightmare
Label: Pure Rock Records
VÖ: 22.08.2014
Genre: NWoBHM
Bewertung: 2,5/5
Written by: Lazer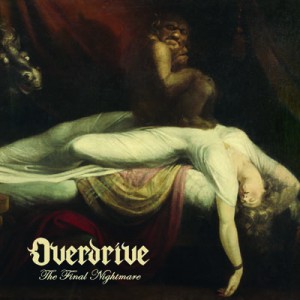 Bereits im Jahre 1977 haben sich Overdrive in England geformt. Die New Wave of British Heavy Metal Band bringt im August diesen Jahres nach dem letzten Album 2007 ihr neuestes Werk "The Final Nightmare" an die Öffentlichkeit.
Seit Anbeginn ihres Daseins begleitet die Band der Status des Underdogs. Liebhaber der Szene unterstellen Overdrive sogar, ein verkanntes Juwel zu sein. Nun ja, wie gesagt – dazu muss man wahrscheinlich wirklich Liebhaber sein.
Auf ihrem "The Final Nightmare" wird ziemlich schnell klar, dass es sich definitv um ein Sub-Genre handelt. Es ist weder Top noch Flop. Die Arrangements der einzelnen Songs könnten durchaus ein wenig ausgefeilter sein. Die Gitarrenriffs sind eher einfach gehalten und reissen nicht wirklich vom Hocker – wenngleich sie ab und an doch sehr melodisch sind. Von treibenden Drums und peitschendem Bass kann man hier nicht wirklich sprechen. Einzig die Keybords sind bei einigen Tracks herausstechend – erinnern sehr stark an Deep Purples Glanzzeiten.
Jedoch wird dieses ganze Unterfangen dann leider doch ziemlich schnell eher langweilig. Es sind nicht wirklich Höhepunkte zu finden auf dieser Scheibe. Man wartet von Track zu Track auf das High-Light, jedoch bleibt dies leider aus. Es waren schon etwas schwere 45 Minuten.
Nichts desto Trotz sind die Mannen von Overdrive durchaus bemüht, aber so recht will der Funke nicht überspringen, das Feuerwerk nicht zünden.
Mein Fazit: Nach über 30 Jahren Erfahrung in einem Sub-Genre, mehreren Studioalben und unzähligen Gigs, erwarte ich mir eigentlich einen echten Kracher. Dieses Album hat mich eher enttäuscht. Zwar bemühen sich Overdrive, im Bereich Heavy Metal beziehungsweise New Wave of British Heavy Metal sich neu zu definieren, das Gesamtpaket passt aber nicht ganz.
Tracklist:
01. Invited To Hell
02. Twice Shy
03. Glass Game
04. Twisting My Mind
05. Wasted
06. Lost On A Mountain
07. Nightwalker
08. Taken Young (Ben's Song)
09. Final Nightmare
Besetzung:
Ian Hamilton – Vocals, Bass
Tracey Abbott – Guitars
David Poulter – Vocals
Ian "Scratch" Padget – Drums
Tim Hall – Keybords, Vocals
Internet:
Overdrive Website