Band: Paragon
Titel: Force Of Destruction
Label: Napalm Records
VÖ: 2012
Genre: Power Metal
Bewertung: 4/5
Written by: Thorsten Jünemann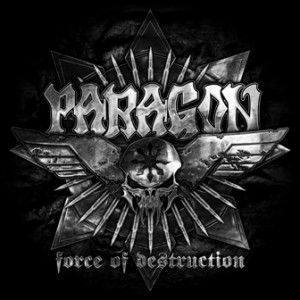 Seit nun knapp 20 Jahren zeigen PARAGON aus Hamburg / Deutschland der Welt konsequent, wie ihrer Meinung nach Heavy Metal zu klingen hat, ohne jedwedige Kompromisse einzugehen.
Und sie können das gut, hat man doch fürs neue Album Piet Sielck als Produzenten gewinnen können um den Teutonenstahl noch passender soundtechnisch ins Licht zu setzen, bzw. uns Metallern angepasst ins Ohr zu blasen, als es bis dato der Fall war…
Ja, ich bin der Meinung, dass die Jungs von der Waterkant mit "Force Of Destruction" uns ihr bestes Album bis heute präsentieren, klingt man doch inzwischen nicht nur wie anfänglich Kopien der sog. Großmeister a la JUDAS PRIEST meets GAMMA RAY, und Co.!
Oldschoolig bedeutet ja auch nicht, dass man sich stets und ständig an seine erfolgreichen Einflüsse halten muss, sondern dass man es schafft, den Sound und die eigene Integrität beizubehalten, was auf dem vorliegenden Album wieder bestens gelingt und jeden Heavy Metal Freund beinahe in Verzückung geraten lässt.
Powermetallische und druckvolle Hymnen in allen Geschwindigkeiten werden dem Hörer souverän und mit hörbarer Spiellaune entgegen geknüppelt und es gibt unter den 10 Songs nicht einen Ausfall zu vermelden.
Es gibt aber auch keinen Song, der sich mir in die Hirnwindungen ein fräst und mich nach CD-Ende noch mitsummen lässt.
Tolles Metal Album welches höchsten Respekt und Aufmerksamkeit verdient hat.
Live bestimmt ein Garant für endloses Bangen, Mitsingspielchen und heftigste Nackenschmerzen.
Willkommen zurück PARAGON, waren die letzten 4 Jahre irgendwie recht ruhig ohne Euch…
Tracklist:
01. Last Day On Earth (intro)
02. Iron Will
03. Tornado
04. Gods Of Thunder
05. Bulletstorm
06. Blood & Iron
07. Blades Of Hell
08. Dynasty
09. Rising From The Black
10. Demon's Lair
11. Secrecy
Besetzung:
Andreas Babuschkin (voc)
Wolfgang Tewes (guit)
Jan Bertram (guit)
Jan Bünning (bass)
Christian Gripp (drums)
Internet:
Paragon Website
Paragon @ MySpace