Band: Rhapsody Of Fire
Titel: Legendary Years
Label: AFM Records
VÖ: 26.05.2017
Genre: Symphonic Power Metal
Bewertung: ohne Bewertung
Written By: Lex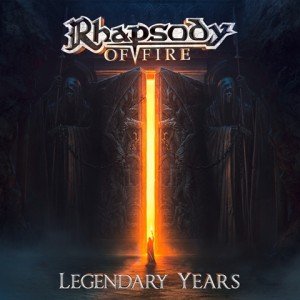 Um die Helden des italienischen Symphonic Power Metal entspann sich (ähnlich den Entwicklungen um den Namen Queensryche) ein kleines Halbchaos, sodass aus den ehemaligen Rhapsody zunächst Rhapsody Of Fire wurde, welche sich dann wiederum zu Luca Turilli´s Rhapsody und Rhapsody Of Fire aufspalteten. Letztere verloren nun 2016 unter anderem mit Sänger Fabio Leone ein seit 1997 konstant bestehendes Aushängeschild der Band.
Da fragt man sich schon: Hat das, was sich da unter wohlbekanntem Banner zusammengeschart hat, überhaupt noch mit der Band von damals etwas zu tun?
Ich sehe "Legendary Years" so, dass sich das neue Line-Up mit Rückgriff auf ihre Klassiker präventiv etablieren möchte: Es gibt meiner Wahrnehmung nach keine großartigen Veränderungen zwischen den neuen und alten Versionen der Songs, und gerade das ist – denke ich – die Botschaft: Rhapsody Of Fire sind immer noch dieselben.
Das Album macht wohl vor allem für Hardcore-Fans zwecks kompletter Sammlung oder eben für Neufans zwecks Orientierung Sinn. Obwohl – für letzteres gibt's ja YouTube und Spotify.
Fazit: Gute Neuaufnahmen eingängiger Band-Klassiker, die sich der geneigte Allessammler nicht nur in den Schrank stellen, sondern zudem auch 70 Minuten lang mit neuem Sänger genießen kann.
Tracklist:
01 Dawn Of Victory
02 Knightrider Of Doom
03 Flames Of Revenge
04 Beyond The Gates Of Infinity
05 Land Of Immortals
06 Emerald Sword
07 Legendary Tales
08 Dargor Shadowlord Of The Black Mountain
09 When Demons Awake
10 Wings Of Destiny
11 Riding The Winds Of Eternity
12 The Dark Tower Of Abyss
13 Holy Thunderforce
14 Rain Of A Thousand Flames
Besetzung:
Giacomi Voli (vocals)
Alex Staropoli (keyboards)
Roby De Micheli (guitars)
Alessandro Sala (bass)
Manu Lotter (drums)
Internet:
Rhapsody of Fire Website
Rhapsody of Fire @ MySpace