Band: Sabiendas
Titel: Column Of Skulls
Label: Bret Hard Records
VÖ: 06.11.2015
Genre: Old School Death Metal
Bewertung: 3,5/5
Written by: Peter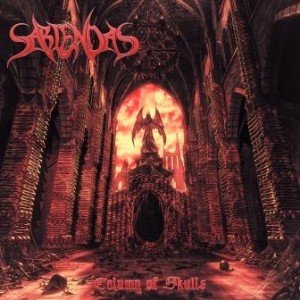 Es ist nur selten der Fall, dass man dem Beipackzettel (in der Regel ohne Hinweise zu Gefahren und Nebenwirkungen), der der Journaille üblicherweise mit jeder Promo ins digitale Haus flattert, tatsächlich trauen darf. Bei den teutonischen Deathern Sabiendas aus dem Ruhrpott ist das jedoch tatsächlich der Fall. Drauf steht "Old School Death Metal" – und genau das ist auch drinnen. Die Herren – mit Dame an einer Axt – bieten auf ihrem Zweitling Column of Skulls genau das, was schon der Titel erahnen lässt – nämlich räudigen Death Metal ganz alter Schule, der keine Gefangene macht. Eher hörfoltert er sein Publikum.
Das Ganze macht schon Spaß, und ich kann mir gut vorstellen, dass bei einem Gig der Band ordentlich was los ist. Aber auf Tonkonserve fehlt es an den technischen Fähigkeiten, wirklich im Genre herauszuragen; ebenso mangelt es an den songwriterischen Nuancen, die einen passablen Song zum sehr guten Song machen. Was übrigbleibt, ist eine kurzweilige Alte-Schule-Death-Scheibe – ein guter Soundtrack, wenn man den Bushido-hörenden ersten Freund der pubertierenden Tochter verkloppen will. Oder so ähnlich.
Tracklist:
01. Intro
02. Worse Than Death
03. The Art Of Leng Tch'e
04. Ascend The Scaffold
05. Cabrón Hijo De Puta
06. Column Of Skulls
07. The Castle
08. Harbinger Of War
09. Ecrements Of The Behemoth
10. March Of The Lansquenets
Besetzung:
Jan – Vocals
Alexandra – Guitar
Christian – Guitar
F.T. – Bass
Toni – Drums
Sabiendas im Internet:
Sabiendas Offiial Homepage