Band: Sivyj Yar
Titel: Burial Shrouds
Label: Avantgarde Music
VÖ: 23.09. 2015
Genre: Post/Pagan/Atmospheric Black Metal
Bewertung: 4,5/5
Wriiten by: Daniel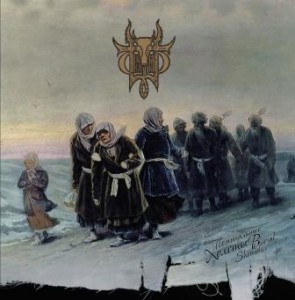 Mit One Man Projekts habe ich es selten. Das von Jassa Member Vladimir nach einer slavischen Gottheit benannte Projekt ist da allerdings mal eine löbliche Ausnahme. Für diesen Umstand sorgt sicher auch, dass kein Drumcomputer den Takt angibt.
Der Post Black Metal erinnert an frühere Alcest, auch die Ukrainer Drudkh oder Vattnet Viskar sind ein guter Vergleich.
Das nunmehr fünfte Album – und der Abschluss einer mit The Dawns Were Drifting As Before begonnenen Trilogie – BURIAL SHROUDS (Поминальные холсты) bietet aber auch denjenigen Futter, welche Pagan nicht mit diesen unsäglichen Touren verbinden, die vor allem durch mitteleuropäische Lande ziehen.
Thematisch geht es um die Bauern, der sich den Widrigkeiten des russischen Winters nicht fügen wollen. Der Winter ist erbamungslos und lang, die Vorräte werden immer knapper. Allein der Wille sicherte das Überleben, ein unumstößliche Tatsache, auf die man hier mit stolz verweist.
Musikalisch wird dies von Post Rock – igen Klängen bis hin zu Black Metal – lischen Dunkelheit wirklich Leinwand – artig umgesetzt, selten gelingt es ein Cover dermaßen authentisch zu vertonen.
Das Leid, das nicht nur das monotone Wehklagen Vladimirs vermittelt, sorgt bei The Earth Breathes Sorrow für absolute Gebanntheit, die Verzweiflung, die sich bei Like A Spark We Will Vanish Into The Darkness breit macht, weicht sechs Minuten später der stillen Hoffnung.
Diese wird dann im abschließenden Longtrack The Snow Shall Fall a Long While offensichtlich.
BURIAL SHROUDS fesselt trotz kleiner Schwächen im Schlagzeugspiel und monotoner Klagerei.
Eben diese Schwächen lassen dieses Album trotz aller Kälte menschlich erscheinen und gerade dieser karge Gesang sorgt für absolut gebannte Stunden unter den Kopfhörern. Genrefans dürften von diesem Werk sicher sehr angetan sein.
Trackliste:
01. Famine
02. Burial Shrouds
03. The Earth Breathes Sorrow
04. Like A Spark We Will Vanish Into The Darkness
05. In Gray Izbas Ancient Rus' Endures
06. The Snow Shall Fall A Long While
Besetzung:
Vladimir – alles
Sivyj Yar im Internet:

Bandcamp