Band: State Of Salazar
Titel: All The Way
Label: Frontiers Records
VÖ: 22.August 2014
Genre: Arena Rock/Melodic Rock/AOR
Bewertung: 5/5
Written by: Lazer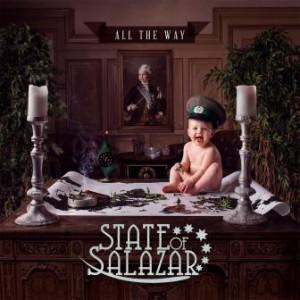 Fünf Studenten der Malmö Academy Of Music gründeten 2010 die Band State Of Salazar. Das Debütalbum All The Way dringt am 22. August diesen Jahres an die Öffentlichkeit.
Gleich mit dem Opener wird klar, wo die Reise der schwedischen Jungs hingeht – direkt ins Ohr.
Die ganzen 47 Minuten lang wird man von komplett genialen Kompositionen mitgerissen. Natürlich sind State Of Salazar etwas von diversen Melodic Rock oder AOR-Bands beeinflusst, besitzen aber definitiv ihre Eigenständigkeit. Teilweise könne man glauben, man höre Toto – denn die Jungs haben wirklich tolle Keybordspuren.
Das Gesamtarrangement des Albums ist einfach klasse. Die Tracks sind von der Ersten bis zur Letzten Sekunde hervorragend durchdacht und noch viel besser umgesetzt. Marcus Nygren liefert gesangstechnisch eine absolute Glanzleistung ab. Die Tracks der Schweden besitzen sehr angenehme und eingehende Melodien, ihre Rhythmen sind mitreissend und die Refrains muss man einfach mitsingen. Man kommt daran nicht vorbei.
Mein Fazit: Mit so einem Debütalbum können nur sehr sehr wenige Bands weltweit aufwarten. State Of Salazar versprüht mit All The Way eine richtig tolle Duftmarke. Mit Tracks wie "I Believe In You" oder "All The Way" entstehen sogar zwei Songs, die auf alle Fälle das Prädikat "spielbar im Radio" verdient haben.
Tracklist:
01. I Believe In You
02. Field Of Dreams
03. All The Way
04. Love Of My Life
05. Eat Your Heart Out
06. Time To Say Goodbye
07. Marie
08. Let Me Love
09. Catastrophe
10. Always
11. Adrian
12. End Of Time
Besetzung:
Marcus Nygren – Vocals
Johan Thuresson – Guitar
Stefan Martenson – Keybord
Johannes Hansson – Bass
Kristian Brun – Drums
Internet:
State Of Salazar Website
State Of Salazar @ Youtube