Band: Stormrider
Titel: The Path Of Salvation
Label: Pure Steel Records
VÖ: 2012
Genre: Power Metal
Bewertung: 4,5/5
Written by: Thorsten Jünemann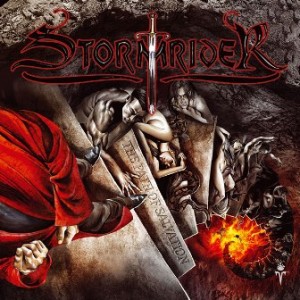 Seit 2005 schwimmen auch STORMRIDER aus Herne / Germany im Underground-Power-Metal-Tümpel und konnten sich bereits national mit ihren bisherigen Veröffentlichungen (2005-Shipwrecked & 2008-Fate Of Hunter) eine treue Fangemeinschaft erspielen, die zum 10jährigen Bandjubiläum einfach mal mit "The Path Of Salvation" ein neues Machwerk verdient hat.
So weit, so gut, doch hat sich die Band, die sich bei der Namenswahl ganz offiziell an einem ICED EARTH Song bediente, es auch verdient, sich lt. Info als ICED EARTH Ersatz zu nennen, seitdem es mit den Jungs mehr oder weniger "bergab" ging?
Was man nun auch immer mit "bergab" meint (in meinem Fall ist ICED EARTH seit "Something Wicked…" nur noch ein Schatten und eine schlechte Laune Spielwiese für Boss J.Schaffer), muss ich zugeben, dass mir die Jungs aus Herne ein freudiges Grinsen abringen können, denn was ich höre ist nicht nur musikalisch für ICED EARTH Fans unterhaltsam.. (der Gesang klingt einfach zu oft nach Mr.Barlow!). Man wildert auch in den besten Iron Maiden Zeiten und schafft mit der Doppelaxt ein Heavy Metal Flair der besonderen, aber europäisch klingenden Art, welches man heute sooo nicht mehr vorgesetzt bekommt.
Wirkliche Ausfälle sind nicht zu finden, der Sound ist gut, die Produktion stimmt, das Songmaterial stimmt von der 1. bis zur letzten Note,…warum ist von STORMRIDER nicht mehr zu hören?
Ich gehe mal von aus, dass die Band "hobbymäßig" von Freunden betrieben wird, die allesamt noch mit Familien und Jobs zu tun haben, denn niemand kann es sich wirklich leisten, seine Gefolgschaft 4 Jahre lang auf ein neues Album warten zu lassen.
Aber was hier sauber auf mich "einmetällt", sollte unbedingt von viel mehr Menschen gehört werden, die Spaß am schnellen Metal haben, STORMRIDER haben damit den kleinen Tümpel des Undergroundmetal verlassen und sind auf dem besten Weg in den großen Teich des Heavy Metal zu springen um endlich verdienterweise auch was von den großen Kuchen abzubekommen, bzw. um sich endlich mehr Gehör verschaffen zu können.
Ich werde mir die vorigen, mir noch unbekannten Alben an Land ziehen…das hat jetzt schwerstens neugierig gemacht.
Tracklist:
01. The Path Of Salvation
02. Across The Acheron
03. Long Way Down
04. Walls Of Fire
05. Heretics
06. The Sentence Divine
07. Circle Of Betrayers
08. Into The Light
09. Heaven Is Closer
10. Transcendence
Besetzung:
Stefan Hebes (voc)
Ingo Rieger (guit)
Jan Gerbracht (guit)
Daniel Woyke (bass)
Tim Nestler (drums)
Thomen Stauch (studio drums)
Internet:
Stormrider Website
Stormrider @ MySpace