Band: The Last Vegas
Titel: Bad Decisions
Label: AFM Records
VÖ: 2012
Genre: Rock
Bewertung: 4,5/5
Written by: Thorsten Jünemann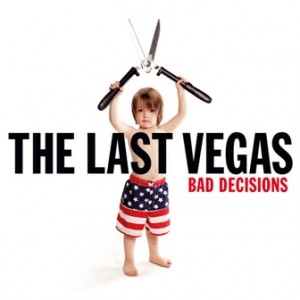 2005 formierten sich THE LAST VEGAS und bekamen anfängliche Schützenhilfe von einem Großmeister des Rocks, Nikki Sixx. Er veröffentlichte deren Debüt und natürlich gab´s ´nen Tourslot mit der CRÜE! Aber um ihr eigenes Ding drehen zu können, nahmen THE LAST VEGAS wieder selbst die Zügel in die Hand und bastelten mit Johnny K. (MEGADETH, DISTURBED, 3 DOORS DOWN, u.v.m.) an dem nun vorliegenden Album "Bad Decisions".
Ich hoffe nicht, dass es sinngemäß des Titels eine "schlechte Entscheidung" war, das Album in meinen CD-Schacht zu schieben…
US Rock der amerikanischsten Art mit heftig sleazigem Schlag tönt mir fett produziert entgegen und man sollte nicht anfangen darüber nachzudenken, wer wohl die Einflüsse der Band sind und wo man den einen und anderen Ton vielleicht schon mal gehört hat.
Viel eher sollte man sich dem Gehörten ganz entspannt öffnen und Spaß daran haben, denn die auftauchenden Erinnerungen machen viel Spaß, sich gelebte und erlebte Dinge nochmal in den Kopf zu rufen. Ein bißchen Guns´n´Roses, eine Prise Aerosmith, etwas AIRBOURNE, ein bisschen Modern Rock Attitüde,….alles gut vermischt und gerührt und heraus kommt: "Bad Decisions" von THE LAST VEGAS!
Tracklist:
01. Beat To Hell
02. Other Side
03. Bad Decisions
04. Evil Eyes
05. Don't Take It So Hard
06. She's My Confusion
07. It Ain't Easy
08. My Way Forever
09. Leonida
10. Devil In You
11. You Are The One
12. Good Night
Besetzung:
Adam Arling (guit)
Nathan Arling (drums)
Johnny Wator (guit)
Danny Smash (bass)
Chad Cherry (voc)
Internet:
The Last Vegas Website
The Last Vegas @ MySpace