Stryper – No More Hell To Pay (CD Review)
Band: Stryper
Titel: No More Hell To Pay
Label: Frontiers Records
VÖ: 2013
Genre: Hard Rock
Bewertung: 3/5
Written by: Thorsten Jünemann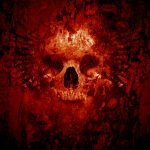 Sind STRYPER eigentlich noch auf die Musik fixiert oder liegt der Schwerpunkt einzig und allein auf die vokale Missionierung der Zuhörer?
Bei den Moslems sind es die Salafisten, bei den Christen sind es STRYPER, die Biene Maja des Bibelwerfer-und Christenrock.
Die Musik war zu jeder Zeit ihres Schaffens eigentlich nie schlecht, durchschnittlicher Hard Rock der niemanden weh tat, aber auch nicht irgendetwas bewegt hat. Einzig und allein der Song "To Hell With The Devil" hat sich in mein Glam/Hardrock-Sammelsurium im Schädel eingeprägt…
Nur habe ich das jetzt das Gefühl, dass die Band versucht, auf ihrem aktuellen Werk "No More Hell To Pay" textlich noch intensiver Missionierungsversuche startet, inkl. Gospelparts…
Mir ist es egal ob Gott, Shiva, Allah, Buddha,..und, und, und… musikalisch beweihräuchert werden, aber man es geschickter verpacken als STRYPER! Musikalisch ok, aber textlich geht es mir nach kurzer Zeit extrem an die Substanz, wenn Wasser zu Wein, gerettet durch Liebe usw. durch meine Boxen predigend in meinem Kopf eindringt und mich beinahe wahnsinnig macht.
Wer drauf stand, wird nicht enttäuscht sein und bekommt musikalisch immer noch seine durchschnittliche Hardrock-Kost, neue Anhänger wird man aber so nicht gewinnen, außer vielleicht beim Jugendweltkirchentag…aber Rock´n´Roll ist doch eigentlich Teufelszeug…
Tracklist:
01. Revelation 04:30
02. No More Hell to Pay 04:53
03. Saved by Love 03:07
04. Jesus Is Just Alright (Doobie Brothers cover) 05:10
05. The One 04:10
06. Legacy 04:14
07. Marching into Battle 04:44
08. Te Amo 04:06
09. Sticks & Stones 04:10
10. Water into Wine 03:41
11. Sympathy 04:02
12. Renewed 04:20
Besetzung:
Michael Sweet (voc & guit)
Oz Fox (guit)
Timothy Gaines (bass)
Robert Sweet (drums)
Internet:
Stryper @ MySpace