Band: SWALLOW THE SUN
Titel: SONGS FROM THE NORTH I, II & III
Label: Century Media Records
VÖ: 13.11.2015
Genre: Doom Metal
Bewertung: 5/5
Written by: Mayhemer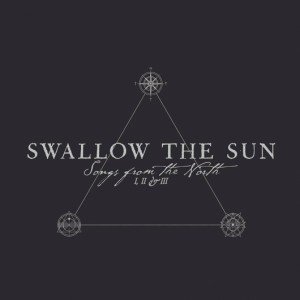 Meine Fresse, was sich SWALLOW THE SUN anno 2015 trauen, muss doch gegen den Strich einer jeden Platten-, Vertriebs,- und Promotionfirma gehen… Welches verdrehte Gehirn hat sich das einfallen lassen? Ich meine, auf der einen Seite zeugt die Veröffentlichung von "Songs from the North I,II & III von genialem Irrsinn und andererseites von irrsiniger Genialität, denn Ausverkauf kann man der im Jahre 2002 gegründeten finnischen Band nicht vorwerfen. VIele Musiker können nur neidisch werden, ob dem Einfallsreichtum und der kompositorisch durchgehend hohen Qualität dieser  3 in 1 – CD Veröffentlichung. Lieber Leser, ja richtig gehört. 3 CD´s zum Preis von einer CD.
Auf CD 1 der typische Sound von SWALLOW THE SUN, auf CD 2 kommen eher ruhige, akkustische Songs zum Tragen, mit viel Piano und der wirklich wundervollen cleanen Stimme eines Mikko Kotamäki. Auf CD3 kommt dann die volle Härte in Form eines gewaltig – dunkelschönen Funeral Dooms auf dich zu. Back to the Roots, also. Ich bin verliebt. Verliebt in ein so perfekt abgerundetes Album, dass wahrscheinlich auch in vielen Jahren noch seinesgleichen suchen wird. Ich versinke in die tieftraurige Musik, kompositorisch auf höchstem Niveau, lasse die Stimmung, die Atmosphäre der 21! Songs auf mich wirken und vergehe in Trauer, Herzweh, Unbill aber auch Freude ob virtuoser Klangspielereien. Vollendete, geschickt durchdachte Lyrics, eingebettet in kluge Arrangements, die dich an die Küste des Nordens holen und über das kalte Meer tragen, inklusive.
"Songs from the North I,II & III" – Ein einziger Geniestreich! Daumen hoch! Rock on
Tracklist:
CD 1:
01. With You Came the Whole of the World's Tears
02. 10 Silver Bullets
03. Rooms and Shadows
04. Heartstrings Shattering
05. Silhouettes
06. The Memory of Light
07. Lost & Catatonic
08. From Happiness to Dust
CD2:
01. The Womb of Winter
02. The Heart of a Cold White Land
03. Away
04. Pray for the Winds to Come
05. Songs from the North
06. 66°50´N,28°40´E
07. Autumn Fire
08. Before the Summer Dies
CD 3
01. The Gathering of Black Moths
02. 7 Hours Late
03. Empires of Loneliness
04. Abandoned by the Light
05. The Clouds Prepare for Battle
Besetzung:
Juha Raivio – Guitar
Markus Jämsen – Guitar
Mikko Kotamäki – Vocals
Matti Honkonen -Bbass
Aleksi Munter – Keyboards
Juuso Raatikainen – Drums
Internet:
SWALLOW THE SUN WEBSITE