Band: The Everdawn
Titel: Poems-Burn The Past (Re-Issue)
Label: Century Media
VÖ: 2012
Genre: Melodic Death Metal
Bewertung: 4/5
Written by: Thorsten Jünemann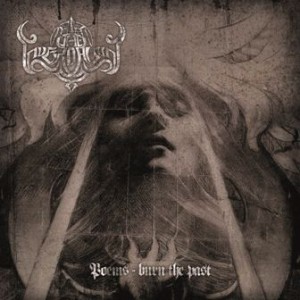 Von 1993 bis 1998 spielten einige bekannte Herren in der Band THE EVERDAWN die nur eine EP und ein Album musikalisch gekonnt, aber soundmäßig unterirdisch veröffentlichte. Um die bekannten Herren dreht es sich um Musiker der Bands SCHEITAN, THE DUSKFALL, AT THE GATES, GATES OF ISHTAR und HELLTRAIN, und dementsprechend klingt das Songmaterial: blastend schnell, brutal und melodiös zugleich, aber wie gesagt: Ein Sound bei dem einem alles verging, was vielleicht auch zum ausbleibenden Erfolg führte…aber das Songmaterial war allererste Sahne und so entschloss sich CENTURY MEDIA diese Perle des schwedischen Deathmetal inklusive beider Releases neu zu mastern und auch teilweise neu einsingen zu lassen. Warum nur das damalige Album und nicht die EP neu remastert wurden, weiß ich nicht! Aber man hat somit die Möglichkeit nochmal den Flair der Zeit aufzusaugen und hört, dass das Songwriting noch ein bisserl vertrackter, vielleicht sogar mutiger war.
Vielen Dank für einen netten Trip in die Vergangenheit und Jugend, der dermaßen sauber und ordentlich modern in Szene gesetzt wurde und seine 4 / 5 Punkte verdient hat.
Auch wenn es niemals ein bahnbrechendes Werk war und/oder wird: Es ist ein solides, brutales und melodiöses Deathmetal-Album, dessen Dasein berechtigt war, bzw. ist.
Tracklist:
01. Territory Loss (Version 2012)
02. When the Sunset Forever Fade (Version 2012)
03. Needlework (Version 2012)
04. Where Pain Never Dies (Version 2012)
05. Autumn, Sombre Autumn (Version 2012)
06. Burn (Version 2012)
07. Poems (Version 2012)
08. Opera of the Damned (Version 2012)
09 .The Everdawn
10. Nightborn
11. The Silent Winter Sky
12. Opera of the Damned
Besetzung:
Niklas Svensson (bass)
Oskar Karlsson (drums)
Patrik Törnkvist (guit)
Pierre Törnkvist (voc & guit)
Internet:
The Everdawn @ Myspace