Band: The Kandidate
Titel: Facing The Imminent Prospect Of Death
Label: Napalm Records
VÖ: 2012
Genre: Thrash/Groove Metal
Bewertung: 3/5
Written by: Heimo Zlöbl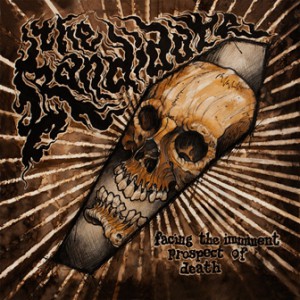 The Kandidate – Dänemarks Thrashcore – oder Modern Thrash – oder doch Metalcore-Helden?
Naja, die Dänen rund um Frontsau Jacob Bredahl (ehemals HATESPHERE) vermischen Old School Thrash mit der Moderne, sowie auch mit sehr corigen Elementen. Aufgefallen sind sie mir erstmals als Support von VOLBEAT auf der 2010er Tour – dazu kann ich nur eines sagen: THE KANDIDATE haben sehr viel Spaß gemacht.
Der neue Silberling "Facing The Imminent Prospect Of Death" bringt 11 Songs in knapp einer halben Stunde, im Vergleich zum Vorgänger verlieren die Thrash-Elemente an Dominanz und das Hauptaugenmerk liegt im Hardcore/Metalcore.
Die Songs machen Spaß, nur ist alles einfach zu schnell vorbei. Irgendwie lieblos kommt mir das Songwriting vor, irgendwie so, als hätten The Kandidate "zwanghaft" ein neues Album produzieren müssen. Nicht falsch verstehen: Das Album ist nicht schlecht, aber definitiv kein Burner, kein Album, welches mich in 10 Jahren noch vom Hocker hauen wird.
Die Songs kommen groovig rüber, jedoch fehlt mir hier die Abwechslung, der Hörer läuft Gefahr, aus Langeweile umzuschalten. Live werden diese Songs sicherlich gut funktionieren – die Grooves verleiten zu Pits, machen Spaß zur Bewegung – aber auf CD kommt das Ganze zu eintönig rüber.
Fazit: Die Qualitäten der Band liegen sicher im Live-Bereich, eingefleischte Hardcore/Metalcore-Fans werden mit dem Ergebnis zufrieden sein, dem nach Abwechslung schreienden Durchschnittshörer wird hierbei sicherlich zu schnell langweilig, obwohl "nur" eine halbe Stunde lang Material geboten wird.
Tracklist:
01. Death 1:42
02. Beyond The Mind, Sleep You'll Find 3:11
03. One And Alone 2:27
04. Total War 2:52
05. Modvind 3:03
06. Let The Maggots Have It 3:50
07. Standing On The Cliffs Of Madness 3:22
08. Fucked In The Search For Life 2:39
09. Disillusionized 2:44
10. Dommedag 2:37
11. The Knives Spit 2:37
Besetzung:
Jacob Bredahl (voc)
Allan Tvedebrink (guit)
KB Larsen (bass)
Niels Peter (drums)
Internet:
The Kandidate Website
The Kandidate @ Myspace