Band: The Room Colored Charlatan
Titel: Primitives
Label: Subliminal Groove Records
VÖ: 2014
Genre: Progressive Death Metal
Bewertung: 4/5
Written by: Lazer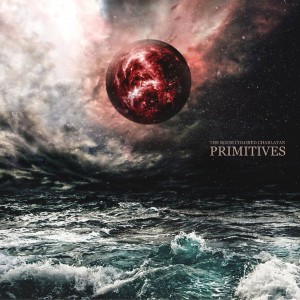 The Room Colored Charlatan (TRCC) sind eine 5-köpfige Truppe aus Indiana – USA, welche sich dem Progressive Death Metal verschrieben hat. Primitives – so wird das neue Album der Amerikaner benannt – enthält 7 Songs plus einen Bonus-Track und hat eine Spielzeit von rund 40 Minuten. Die Scheibe wurde von der Band eigenhändig in Indianapolis produziert, gemixed und gemastered.
Mit Primitives fetzen die Jungs ein wahrliches Meisterwerk an die Öffentlichkeit. Polyrhythmik und eingehende, fast schon sphärische Melodien, ziehen sich durch das gesamte Album. Begleitet wird das Ganze von sehr melodiösen, ins Ohr gehende Gitarrenriffs, welche aber wiederrum sehr kraftvoll und brachial sein können. Unterstütztend hinzu kommt natürlich ein mit Liebe behandeltes Schlaginstrument, welches sich von einer auf die andere Sekunde in ein bestialisches Ungeheuer verwandelt und mit genialen Blast-Beats über alles hinwegstampft was sich so in den Weg stellen könnte. Für die Garnitur sorgen dann präzise ausgeführte, teils sehr langanhaltende, brutal ausgeführte Vocals. Jedoch beherrscht TRCC auch zwischendurch ganz klaren Gesang. Die Jungs verstehen es, aus Death Metal-Elementen und Prog-Elementen ihren ganz eigenen Stil zu kreieren.
Mein Fazit: Mit Primitives fährt The Room Colored Charlatan nicht ausschießlich auf Death- oder Prog-Metal Fans zu, sondern kann durchaus auch neues Publikum begeistern. Für mich als totalen TRCC Neuling, ist diese Platte sofort ins Ohr gegangen, erfüllt jeden Anspruch auf ein gepflegtes Stück Musik. Tolle Melodien, stampfende Drums, brachiale Riffs und stimmlich mit brutalen Shouts oder klarem Gesang, wissen TRCC mit diesem Album zu überzeugen.
Bewertung: 4/5 Punkte
Tracklist:
01. Instinct
02. Native habitat
03. Apex Predator
04. Primitives
05. Questions of Origin
06. Survivalist Notion
07. The Atlas Artifact
08. Bonus: Nexus Point
Besetzung:
Jared Bush (Vocals)
Justin Seymour (Guitars)
Brent Edelson (Guitars)
Adam Dixon (Drums)
Michael Miller (Bass)
Internet:
The Room Colored Charlatan @ Facebook
The Room Colored Charlatan @ MySpace
The Room Colored Charlatan @ YouTube
The Room Colored Charlatan @ Reverbnation