Band: Thulcandra
Titel: Under a Frozen Sun
Label: Napalm Records
VÖ: 2011
Genre: Black Metal
Bewertung 4,5/5
Written by: Much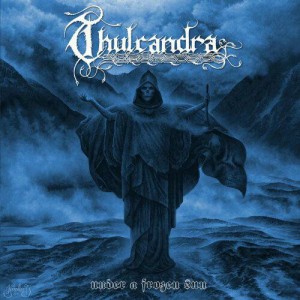 Grundsätzlich ist nichts ein Unikat. Dieser These kann man in jeder Lebenslage – so auch in der Musik – Glauben schenken.
Die gesundheitlich erzwungene Pausenzeit von Behemoth konnte man sich mit Hate oder Otargos vertreiben, auf Tsjuders neue Scheibe kann man mit Krypt warten und den Skandinavischen Glanzzeiten der 90er alà Sacramentum und Dissection kann man seit einiger Zeit mit den Klängen von Thulcandra huldigen. Ob es ein Fluch oder Segen ist, mit einer dieser Größen verglichen zu werden, muss jede Band für sich entscheiden.
Wie bereits bei "Fallen Angel's Dominion" waren auch hier die Jungs von Dark Fortress mit im Studio. Tatkräftig wurde produziert und eingetrommelt, was das Zeug hält. "Under a frozen Sun" knüpft Nahtlos an dessen Vorgänger an, steigert sich jedoch um genau diesen Prozent an Eleganz, den ich beim Debut ein wenig vermisst habe.
Eine derartig kalte Stimmung bei dem Tempo zu hinterlassen kann man nicht eben aus dem Ärmel schütteln, gewisse Bands neigen allerdings zu diesem Talent und "Thulcandra" kann sich erhobenen Hauptes dazugesellen. Neben "Aeon of Darkness" mit seinem Blastgewitter trifft man auch elegantere Stücke wie etwa "Gates of Eden" oder das sehr melodische "In Blood and Fire".
Trotz der Ähnlichkeit zu seinem Idol noch als eigenständige Band und nicht als lächerliche Hommage gesehen zu werden verlangt viel Arbeit und Disziplin, allerdings kann man ruhigen Gewissens behaupten "Thulcandra" hat diese Grenze bereits mit seinem Debutalbum bravurös gemeistert – besser gesagt gar nie beschritten.
Fazit: Eine sehr solide Produktion aus deutschem Hause. Wer die Jungs bereits kennt, kann ohne Gewissensbisse zugreifen. Wem "Thulcandra" kein Begriff sein sollte, hat dringenden Nachholbedarf. Anspieltipps: "Aeon of Darkness", "In Blood and Fire".
Tracklist:
01. In Blood And Fire 8:35
02. Black Flags Of Hate 3:25
03. Ritual Of Sight 5:50
04. Under A Frozen Sun 5:02
05. Aeon Of Darkness 5:05
06. Echoing Voices (A Cold Breeze Of Death) 3:51
07. Gates Of Eden 9:22
08. Life Demise (Unanimated Cover) 4:07
Internet
Thulcandra @ MySpace
Besetzung
Steffen Kummerer (voc & guit)
Sebastian Ludwig (guit)
Tobias Ludwig (bass)