Band: ZIX
Titel: Tides Of The Final War
Label: Pure Steel Records
VÖ: 28. Oktober 2016
Genre: Heavy Metal
Bewertung: 3,5/5
Written by: Daniel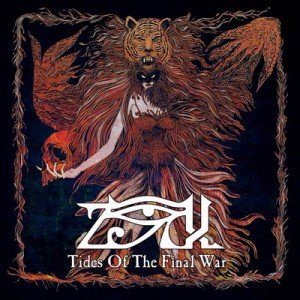 Das Debüt der Libanesen kann sich hören lassen, auch wenn ich den Wahrheitsgehalt der Aussage der Plattenfirma, "Die beste Heavy Metal-Band aus dem Libanon heißt ZIX." nicht überprüft habe, TIDES OF THE FINAL WAR spricht für sich.
Daran kann auch der manchmal etwas holprige (und subjektiv dafür umso symphatischere) Gesang von Maya Khairallah, die stimmlich in etwa eine Mischung aus Jutta Weinhold und Marta Gabriel bietet, definitiv nicht rütteln.
Im Gegenteil, das Quintett bietet neben einer ausgewogenen Mischung aus NWOBH uns US Metal wie bei Crucible und Dark Days Of Babylon auch folklorische Elemente. Hier begeistert mich vor allem der Titeltrack, der thematisch auf die Wende zu schielen scheint.
Episch/melodische Banger der Güteklasse A sind mit Shadow Of A Dying Sun, Heavens Eyes und Thousand Wars At Sea ebenfalls vertreten und die eindrucksvolle Gästeliste bei der sehr gelungenen Hymne Metal Strike (unter anderem Tony Martin, Blaze Bayley, Paul Di'Anno, Ronny Munroe, Dany Deaibess, Ross The Boss, David Shankle und Jack Starr) sprich ohnehin für sich.
Warum hier trotzdem nicht mehr als eine 3,5/5 drin ist, liegt an drei Dingen:
Am Titeltrack, dem überragenden Night Of Evil und dem an Satan`s Host erinnerenden Rausschmeißer The Warwhore. Die twei letztgenannten Lieder sind von der Debüt – EP, wie die meisten Höhepunkte auf TIDES OF THE FINAL WAR .

ZIX haben ganz großes Potenzial, welches sie auf diesem durchgängig starken Album aber nur teilweise abrufen. Genre – Fans können trotzdem bedenkenlos zugreifen.
Trackliste:
01. Buyer Of Souls
02. Metal Strike
03. Tides Of The Final War
04. Shadow Of A Dying Sun
05. Crucible
06. Dark Days Of Babylon
07. Heavens Eyes
08. Thousand Wars At Sea
09. Night Of Evil
10. The Warwhore
Besetzung:
Maya Khairallah – Gesang
Juan Carrizo – Gitarre
Walid Awar – Gitarre
Ziad Bardawil – Bass
Ziad Alam- Schlagzeug
Kenny Earl Rhino – Schlagzeug (Debütalbum)
ZIX im Internet: