Wintersun Forest Tour 2017 feat Wintersun, Whispered 21.09.17 PPC, Graz
Bands: Whispered, Wintersun Date: 21.09.2017 Venue: PPC, Graz
Die Finnen von Wintersun werden ja oft als Überbleibsel von Ensiferum betrachtet – ganz so als ob ihrem Mainman Jari Mäenpää nach seinem Ausstieg bei diesen nichts anderes übrig geblieben wäre, als kleinere Brötchen zu backen. Wie dem nun wirklich ist, ob Wintersun sich inzwischen auch in unseren Breiten eine ordentliche Fanschar erspielt haben, wollte ich im PPC Graz
Als Support (leider ging es sich für mich zeitlich nicht aus, den Opener Black Therapy auch zu hören) haben sich die Suomi-Rocker die ebenfalls aus ihrem Land kommenden Samurai-Metaller von Whispered geleistet. Und ich benutze hier bewusst das Wort "geleistet" – die Samurais aus dem Norden begannen pünktlich und rockten gleich ordentlich los. Musikalisch würde ich das, was sie an Mucke im PPC auffuhren, am ehesten als Melodic Death bezeichnen – wenn auch nicht nur, und eben mit dem Thema der legendären Kämpfer aus Fernost. Die Optik stimmte, und die Musiker hatten offensichtlich Spaß an ihrem Auftritt. Mitunter kamen mir ihre Songs etwas zerfahren aufgebaut vor, aber sie sind dennoch ein definitiv starker Support, den man als Hauptact einmal schultern muss. Dem Publikum gefiel's und auch die Chemie zwischen Meute und Band stimmte. Ein guter Beginn!
Setlist:
01. Strike
02. Exile of the Floating World
03. Kensei
04. Sakura Omen
05. Lady of the Wind
06. Hold the Sword
07. Bloodred Shores of Enoshima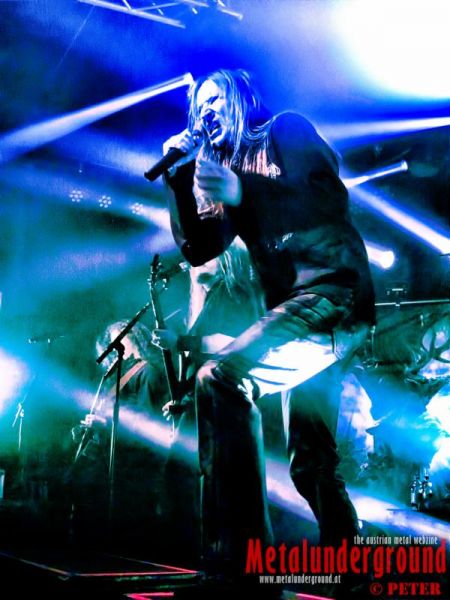 Als dann Wintersun selbst die Stage betraten, war dann doch sofort klar, wer hier der Headliner ist. Die Band legte mit Vollgas los, das Publikum, zahlreich vorhanden und enorm aufgedreht, feierte die Truppe von Beginn weg ab. Jari Mäenpää war gut bei Stimme und auch seine Mitmucker and den Saitenwaffen und hinter der Schießbude spielten tight und technisch sauber. Gerade Teemu Mäntysaari an der Axt schien mir ein wirklicher Könner zu sein – oder ein extrem guter Blender, der Können bestens vortäuschen kann. Kurz und gut – Wintersun lieferten das beste Clubkonzert, das ich bisher im PPC erleben durfte. Vollgas über die ganze Distanz und dabei die nicht ganzen einfachen Songs immer gut dargeboten. Es war mir ein Volksfest!
Setlist:
01. Awaken From The Dark Slumber (Spring)
02. Winter Madness
03. Beyond the Dark Sun
04. Death and the Healing
05. Sons of Winter and Stars
06. Loneliness (Winter)
07. Starchild
08. Eternal Darkness (Autumn)
09. Time
>> BILDER << vom Konzert (by Peter P.)