Band: Lothlöryen
Titel: Principles Of A Past Tomorrow
Label: Selfreleased
VÖ: 01.06. 2015
Genre: Progressive Power/Folk Metal
Bewertung: 5/5
Written by: Daniel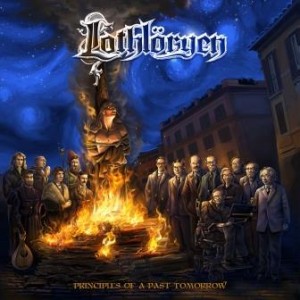 Es ist schon unglaublich, was für eine Entwicklung manche Bands machen. LOTHLÖRYEN zum Beispiel haben sich doch tatsächlich von einer eher mauen Blind Guardian – Kopie zu einem eigenständigen Folk Metal Act gewandelt. Die Steigerung vom Zweitwerk Someways Back Home zum Drittling Raven Souls Society glich einem Quantensprung, und auch wenn diesen Werk bis dato wenig Beachtung findet, es ist potenziell ein zukünftiger Genreklassiker, der nicht nur Fans von Blind Guardian bis Ordan Organ begeistern sollte!
Nun legt Südamerikas Folk Metal Band Nummer 1 – nach der aus Neueinspielungen alter Songs bestehenden Compilation Some Ways Back Some More – mächtig nach und erfüllt den eigenen Anspruch, international mithalten zu wollen, vollkommen. Mehr noch, LOTHLÖRYEN heben das Genre – Niveau sogar an. Musikalisch hat man sich von den Szene Vorreitern endgültig emanzipiert, setzt auf sehr detailliertes Songwriting zwischen Jethro Tull und Skyclad, Pink Floyd und späteren Savatage, zwischen Queen und Deep Purple. Einzig die Stimme von Daniel Felipe (Ex – Rygel) lässt hier noch leichte Querverweise zu Blind Guardian zu, bringt allerdings genügend Charakter mit um sie wiederzuerkennen.
Principles Of A Past Tomorrow braucht daher ein paar Anläufe um zu zünden, ist dafür aber umso langlebiger und offenbart selbst nach 30 Durchläufen immer wieder neue Details. Bemerkenswert an diesem Album sind vor allem die perfekte Reihenfolge der (allesamt großartigen) Tracks:
Das folkloristisch beginnende Intro … A Journey Begins wandelt sich nach zwei Dritteln in einen symphonischen Rock Oper Song, der an The Wake Of Magellan erinnert, der folgende Opener Heretic Chant bietet leicht breaklastig, aber eingängig genug Folk beeinflussten Heavy Metal, der locker mit Ordan Organ mithalten kann. Nahtlos geht dieser Song in God Is Many über:
Hammond Orgel und Akkustik Gitarren verwandeln sich alsbald in einen stampfenden – mit spacigen Keys unterlegten – Midtempo Banger, der durch seine melodische Bridge trotz aller Elemente einen sehr großen Ohrwurmfaktor besitzt. Besonders gelungen ist der Mittelteil, der alle Einflüsse der Band zum tragen bringt! Time Will Tell bietet 70er Folkrock wie modern gehaltenen Heavy Metal in perfekter Symbiose, während man bei Manipulative Waves unweigerlich in Sphären zwischen progressiven Hard Rock, und melodischem Metal gefangen gehalten wird.
Weitere Ausrufezeichen setzt man mit Night Is Calling, The Convict und The Law & The Insider. Dermaßen flüssig habe ich persönlich eine Verbindung aus Progressive, Power und Folk Metal noch nicht gehört! Großartig, wie auch der Folk Metal Track The Quest Is On und die anspruchsvolle Folk Halbballade Wavery Time.
Man hört hier jeder Note den Ehrgeiz, das Herzblut und den Schweiß an, den die Brasilianer hier investiert haben. Dem Vorgängeralbum attestiere ich, wie oben erwähnt, Klassikerpotenzial. Principle Of A Past Tomorrow weit mehr! An diesem Album kommt kein Freund zeitloser und anspruchsvoller Musik vorbei!
Trackliste:
01. …A Journey Begins
02. Heretic Chant
03. God Is Many
04. Time Will Tell
05. Manipulative Waves
06. Night Is Calling
07. And Dowland Plays
08. The Convict
09. The Quest Is On
10. Who Made The Maker?
11. The Law & The Insider
12. Wavery Time
Besetzung:
Daniel Felipe – vocals
Leko Soares – guitars, backing Vocals
Tim Alan – guitars
Leo Godde – keyboards
Marcelo Godde – bass
Marcelo Benelli – drums
Lothlöryen im Internet: