Minotauro – Apocalyptic Sense
Band: Minotauro
Titel: Apocalyptic Sense
Label: 7Hard
VÖ: 13.10.2017
Genre: Power Metal
Bewertung: 4/5
Written by: Lex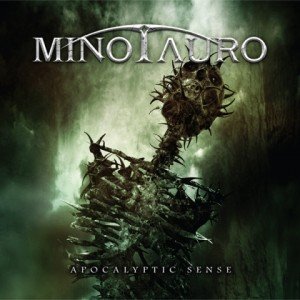 Die kroatisch/slowenisch/italienischen Power Metaller von "Minotauro" scheinen sich die durchwachsenen Kritiken am 2013er-Debut "Masters Of The Sea" offensichtlich zu Herzen genommen: Zumindest ich kann beim nun vorliegenden zweiten Album nichts von dem braven, glatten und nichtssagenden Sound entdecken, der dieser Band damals nachgesagt wurde.
Im Gegenteil – gleich die ersten drei Tracks "Landless Soldiers", "Fields Of Symphobia" und vor allem das extrem druckvolle "Seven" lösen mit ihrem Mix aus (echten!) Orchesterklängen und, bei aller Liebe zu Melodien, trotzdem mächtigen Power-Riffs erste Anwandlungen von Begeisterung bei mir aus. Und das bleibt auch noch ganz lange so (ein klein wenig Schimpf und Schande folgt weiter unten).
Indem die Sechserbesetzung trotz progressiver und orchestraler Anleihen das Wörtchen "Power" ernst nimmt, grenzt sich die Gruppe deutlich sowohl von den reinen Traditionalisten als auch den typischen Euro-Bombast-Metallern ab. Rudy Berginc bringt – trotz unüberhörbarem Dickinson-Timbre – auch eine ganz eigene Note in die anspruchsvoll komponierten Songs, die bei all den zahlreich untergebrachten Ideen nie den berühmten roten Faden missen lassen.
Liebe zum Detail und Eingängigkeit, echte Metalpower und Bombast stehen hier ohne Widerspruch nebeneinander. Ich würde "Apocalyptic Sense" wohl am ehesten als eine Symbiose eines Dickinson-Solo-Albums mit modernem Power Metal und kontrolliertem Hang zum Prog bezeichnen.
Erst mit "Graveyard Symphony" stellen sich, glücklicherweise erst mit dem vorletzten Track, gewisse Ermüdungserscheinungen ein. "Easy Livin´" ist dann nochmal eine ganz gelungene Adaption des Uriah Heep-Klassikers.
Bei einem Album, dessen erste 35 Minuten einen einzigen Anspieltipp darstellen, hält mich nur das Fehlen eines unwiderlegbaren Geniestreichs nebst leichtem qualitativen Abflauen ("Graveyard Symphony") und einem guten, aber eben schon oft da gewesenem Cover von einer höheren Benotung ab.
Tracklist:
01. Landless Soldiers
02. Fields Of Symphobia
03. Seven
04. All Seeing Eye
05. Braindigger
06. Apocalyptic Sense
07. Son Of A Witch
08. Graveyard Symphony
09. Easy Livin`
Besetzung:
Rudy Berginc (vocals)
Nik Smajlagic (guitar)
Roko Smajlagic (guitar)
Ales Lavric (keyboards)
Enos Zuliani (bass)
Emanuele Petrucci (drums)
Internet: