Band: Deathronation
Titel: Hallow The Dead
Label: Van Records
VÖ: 2014
Genre: Old School Death Metal
Bewertung: 4/5
Written by: Lex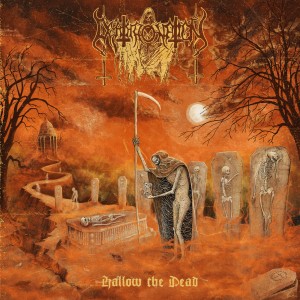 Van Records veröffentlicht mit "Hallow The Dead" von DEATHRONATION eine klasse Scheibe, die Adepten des Steinzeit-Death Metals (Morgoth, Obituary & Co) locker aus den Höhlen locken sollte. Das gilt zumindest in puncto Stil, Atmosphäre, Klang und Vocals – "Hallow The Dead" lässt das abgestochene Grunzschwein links liegen und setzt lieber auf das gute alte Geröchel. Tempomäßig wird – dem anvisierten Äon getreu – der Blastbeatdildo in der Handtasche von Frauchen gelassen. Man schreddert zwar nicht langsam schleppend sondern gerne im mittleren bis höheren Normaltempobereich, dort dafür dynamisch und überzeugend mit modrig-furztrockenem Axt-VS-Mumien –Riffing.
DEATHRONATION überzeugen auf "Hallow The Dead" mit einer konstant coolen Grabesatmosphäre und vor allem dem abschließenden Albumkracher "Age Of Whoros".
Tracklist:
01. Deathchant Assyria
02. Spiritual Relief
03. Ghostwhipper
04. Beg For Your God
05. Church Of Salvation
06. Steelpanther's Fist
07. Realm Of Shadows
08. Age Of Whoros
Besetzung:
Stiff Old (Guitar & Vocals)
B.S. Goathammer (Guitar)
S. Muerte (Bass & Screams)
Mr. Freeze (Drums)
Internet:
Deathronation Website